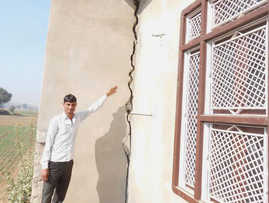 Ravinder Saini
Tribune News Service
Mahendragarh, December 20
Residents of Dostpur village have been experiencing high-intensity tremors for the past over a month following heavy mine blasts being carried out by a Rajasthan firm on the Krishnavati river. The village is located on the border of Haryana and Rajasthan.
The villagers live under constant fear as several houses here have developed cracks due to the strong impact of the blasts.
The villagers alleged that the Rajasthan firm had illegally been carrying out mining activities in Haryana, while it had taken lease for mining zone located on the border of both states.
"Moreover, blast up to a limit is allowed for mining as per rules, but the firm had been throwing norms to the winds with impunity," they added.
"We have to come out of our houses immediately after the firm starts carrying out blasting operations in the afternoon as our houses vibrate vigorously under the impact of the explosion. Huge cracks have appeared in most of the houses here," said Sunil of Harijan Basti in Dostpur village.
"The impact of the blasts is more powerful than earthquake. The explosions start at 2 pm and continue till evening every day," said Durga Prashad, a villager.
"We had called on the Narnaul SDM two days ago seeking action against the firm so that all villagers could live without any fear in the village. He has assured us of resolving the grievance," said Devender, another villager.
"The firm had to stop the blasts six months ago when the district authorities warned its officials of stern action, but they had again started carrying out high-intensity explosion resulting in cracks in most of the houses," Dhara Singh, outgoing sarpanch of the village, said.
Leela Ram, another villager, said they would not hesitate to launch an agitation if the authorities failed to get the blasts stopped.
The mining officer, Bhagirath Vashistha, said, "We have started an inquiry into the matter after getting a complaint of high-intensity blasts by a Rajasthan firm near Dostpur village. Appropriate action will be taken against the firm if it is found guilty during the inquiry."