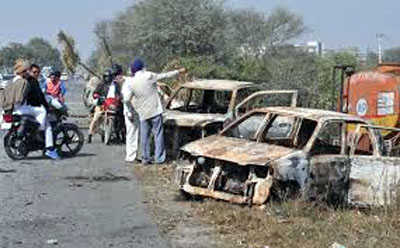 Saurabh Malik
Tribune News Service
Chandigarh, October 12
More than a year after the Punjab and Haryana High Court took suo motu cognisance of reports carried in these columns on alleged sexual assault on women in the fields of Murthal by 30-odd goons, the amicus curiae today told the court that nine rapes had taken place.
As the case came up for resumed hearing, amicus curiae (friend of the court) Anupam Gupta told the court that Haryana's former DGP had himself admitted the factum of rapes.
(Follow The Tribune on Facebook; and Twitter @thetribunechd)
Appearing before the Division Bench of Justices Ajay Kumar Mittal and Amit Rawal, Gupta said information to this effect was given to him by senior IAS officer Vijay Vardhan.
Gupta said he was still in the High Court when he received a call from another IAS officer, Ashok Khemka, that Vardhan wanted to talk to him. At that time, Vardhan was away looking after his ailing father. The amicus curiae said Vardhan soon after called up to say that then DGP KP Singh told him about nine rapes in Murthal.
Gupta said the fact that Vardhan called him up could easily be verified from his call details. He said the information between KP Singh and Vardhan was exchanged during the meeting held before the Parkash Singh Committee report was finalised. Gupta said Vardhan was later pulled up by the Chief Minister for speaking out. Vardhan has already denied talking to Gupta on the issue.
During the course of hearing, Gupta also told the court that Sukhdev Dhaba owner Amrik Singh, who told mediapersons about rapes but denied it before a special investigating team, would "speak like a cannon" if the case went to the CBI. Gupta also reiterated his demand for prosecution of a journalist, Tarik Anwar, who fabricated an audio clip to project that he was talking to a victim's mother.
Gupta had earlier also told the Bench that Haryana Additional Chief Secretary Vijay Vardhan had approached him through Khemka for providing information on "witness" Amrik Singh deposing before the Parkash Singh Committee.
Pulling the Murthal rape incident out of the sphere of questionability into the realm of reality, the High Court in January this year had minced no words to say "it was evident that rape has been committed".
Top Stories