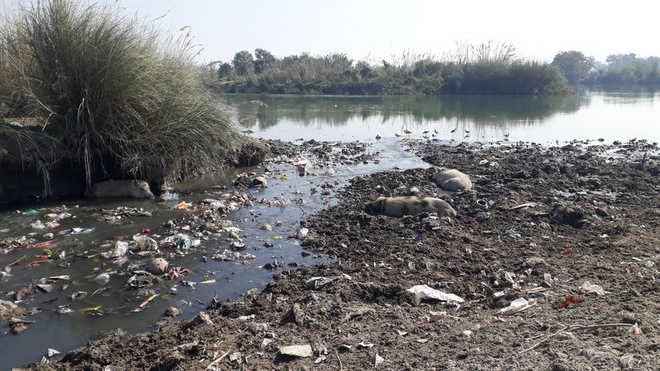 Shiv Kumar Sharma
Municipal Corporation, Yamunanagar-Jagadhri, Municipal Committee, Radaur, and several gram panchayats of Yamunanagar district are polluting the water of Western Jamuna Canal (WJC) by flowing domestic effluent in its water.
The water of this canal is supplied to several districts of Southern Haryana, where it fulfils the requirement of drinking water of people and irrigation. Besides, its water is also supplied to Delhi to meet drinking water requirement of the residents of the national capital. As per a report sent to the office of River Yamuna Monitoring Committee, Haryana, at Gurugram by the authorities of Irrigation and Water Resources Department, Yamunanagar, in March 2019, about 100 cusecs of domestic effluent (over 2,800 litre discharge per second) is being flown in the WJC in Yamunanagar district.
The report says the domestic effluent including sewage and water of sewage treatment plants is being flown in the WJC at 19 places in villages as well as the urban areas of Yamunanagar district.
Several nullahs don't have screens set up to stop garbage from entering the canal. At some nullahs, the screens have been installed but are choked with garbage.
Haridev Kamboj, Executive Engineer, Water Services Division, Dadupur, Head of Yamunanagar district, says the supply of treated and untreated water in WJC is completely banned, as it pollutes its water.
"As per the October 7, 2016, notification of the Ministry of Water Resources, River Development and Ganga Rejuvenation, no person shall discharge, directly or indirectly, any untreated sewage or sewage sludge into the River Ganga or its tributaries (Yamuna river and WJC is fed by the Yamuna) or its banks," says Kamboj.
The authorities of the Irrigation and Water Resources Department have issued notices to Municipal Corporation, Yamunanagar-Jagadhri, Municipal Committee, Radaur, Block Development and Panchayat Officers (BDPOs), Radaur, Jagadhri and Chhachhrauli and Executive Engineer (XEN) of Public Health Engineering Department several times, but in vain.
"I have repeatedly issued notices to the authorities of civic bodies of Yamunanagar, Jagadhri and Radaur and BDPOs of Radaur, Jagadhri and Chhachhrauli and XEN of Public Health Engineering Department under Section 58 of the Haryana Canal and Drainage Act, 1974, to stop the discharge of domestic effluent in WJC," says Kamboj.
He said he has issued them notices in October 2019, too, with directions not to discharge domestic effluent in the WJC. According to information, the water carrying capacity of the WJC is 18,000 cusecs and it fulfils more than 50 per cent requirement of irrigation and drinking water of Haryana. Dr KR Bhardwaj, a retired Associate Professor of botany department from MLN College, Yamunanagar, and president of Society of Environment Management and Bio-Research (an NGO), said the Western Jamuna Canal is the lifeline of Haryana because it is a major source for irrigation of agricultural land in Haryana. Besides, it supplies drinking water to Delhi.
"Crores of human beings along with animals and water-based living organism including fish, turtles and snakes among others are purely dependent upon WJC water for drinking, irrigation of agricultural land, fishing as well as other water-based activities. Therefore, pure water supply is the need for survival of millions of human beings," said Dr Bhardwaj.
He said twin city Yamunanagar-Jagadhri and other small towns and villages of Yamunanagar district are badly polluting the WJC discharging sewage laced with industrial pollutants containing all types of heavy metals, remains of pesticides, bacteria, virus and other poisoning chemicals, putting the lives of millions of people at risk.
"We need effluent treatment plants of 130 MLD capacity. But the existing ETP and Sewerage Treatment Plants are less than 50 MLD capacity in Yamunanagar and Jagadhri, which are inadequate to match the requirement of this area to treat the polluted water. Besides, the treated water should be used for irrigation and other requirements instead of releasing it into WJC," he said.