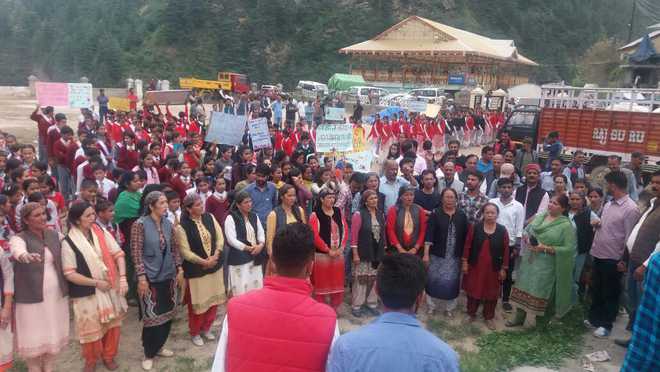 Bhanu P Lohumi
Tribune News Service
Shimla, July 13
Nine days after the gang-rape and murder case of a minor girl shook the hill state of Himachal, the Special Investigation Team headed by IG (Southern Range) Zahur Zaidi on Thursday arrested six persons.
Ashish Chauhan alias Ashu, 29, a resident of Sharal village in Kotkhai, was arrested early today.
The other five, Rajender Singh (32) alias Raju (driver of a pick-up), a resident of Hiliala village; Subash Singh Bisht (42), and Deepak (29) alias Deepu, both residents of Pauri Garwal; Suraj Singh (29) and Lok Jung (19) alias Chotu, both from Nepal were arrested later in the day.
Addressing the media, DGP Somesh Goyal said: "There was no advance planning to commit the crime and it was a case of opportunity. We have physical, technical, forensic, circumstantial and confessional evidence against the accused."
All the accused were living in Kotkhai area for past many years and they were nabbed from the area.
Inspector General of Police (Southern Range) Zahur H Zaidi said the pick-up driver, Raju, was known to the victim.
On July 4, when the victim was on her way back home, Raju offered her a lift.
When the girl was offered the lift, the other five accused were also sitting in the vehicle and were 'drunk'.
Raju dropped some horticulture equipment at a farm, and on the way pulled the victim out at an isolated place where she was raped.
He said that the girl was strangulated while she was being raped as the accused had held her head and mouth.
Zaidi said the spot where the crime was committed and from where the body was recovered was the same.
He said the police in the case have questioned 84 persons and screened 28 call details.
The police have registered a case of rape and murder under Sections 302, 376 and Section 4 of POCSO Act against unknown people.
The 16-year-old girl was a student at Mahasu government school in Kotkhai. Goyal has appealed to the people to desist from circulating unverified news and photographs related to the case on social media, which made the work of SIT that much more difficult. Besides, such posts can attract civil and criminal liability, he said.