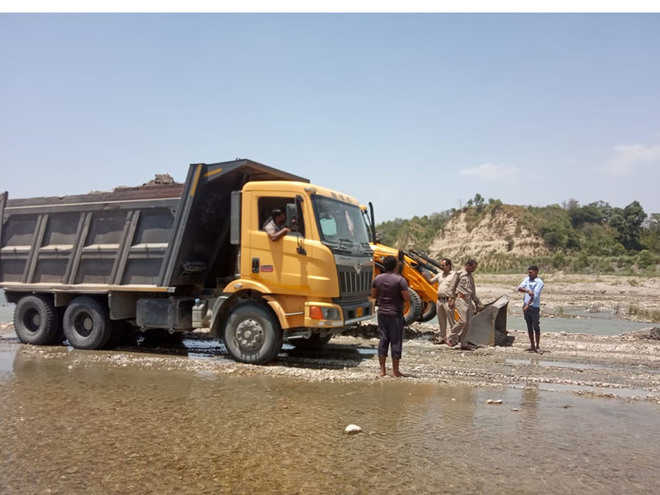 Lalit Mohan
Tribune News Service
Una, June 17
While in the opposition, the BJP had made illegal mining in Una district the biggest issue against the ruling Congress. However, now when the BJP is in power, the situation is no different as illegal sand mining in the Swan continues with impunity.
A survey on the Swan riverbed has revealed that despite ban, mechanical mining was going unabated at various places in Una and the Santoshgarh areas. Big machines are being used in the nefarious activity and sand is being exported to Punjab from border areas. Huge dumps of sand can be seen at various places along the Swan. Even as mechanical mining in riverbeds has been banned, many tippers and big truck can be seen carrying sand.
After coming to power, the present government had brought in several rules to curb illegal mining. Under these, the maximum fine for illegal mining has been increased from Rs 25,000 to Rs 5 lakh. However, not even a single offender has been fined up to Rs 5 lakh.
Paramjit Singh, Una mining officer, could not be contacted despite repeated attempts.
Sources said most of the leases against which mining was presently being undertaken in the Swan were allotted during the stint of the previous government. However, the present government has not taken any step to curb the illegal practice.
The Centre has spent more than Rs 1,000 crore on the channelisation of the Swan and illegal mining is threatening it. Moreover, the Swan is the lifeline of Una district as it recharges the groundwater through its wetlands.
Several police officers posted in Una have been suggesting measures to curb illegal mining. Sanjeev Gandhi, former SP, had written to the state government that illegal mining should be made a cognisable offence. Some administrative officers had suggested that the land allotted for mining should be marked through GPS, so that any mining outside the allotted areas could be identified and declared illegal.
However, none of these suggestions have been adopted or implemented by the authorities.
No offender fined up to Rs 5 lakh
After coming to power, the present government had brought in several rules to curb illegal mining. Under these, the maximum fine for illegal mining was increased from Rs 25,000 to Rs 5 lakh
However, not even a single offender has been fined up to Rs 5 lakh.
Big machines are being used in the the illegal activity and sand is being exported to Punjab from border areas. Huge dumps of sand can be seen at various places along the Swan