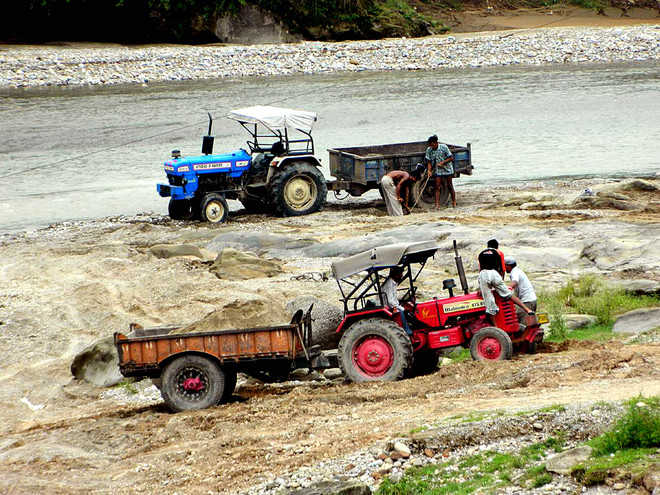 Rajiv Mahajan
Nurpur, September 7
Notwithstanding mining ban in Chakki rivulet in the subdivision bordering Punjab and Himachal Pradesh, rampant and illegal mining has been going on posing threat to 12 gram panchayats.
Not long ago, farmers of Khanni, Maira, Baduee, Baranda, Lodwan, Kandwal and Mohtli gram panchayats produced around 5,000 tonne of foodgrain in a year by using Chakki water for irrigation, but illegal mining has left the fertile fields barren causing resentment among residents and farmers.
Villagers of the affected gram panchayats lamented that underground water level in the area had dipped drastically. Ditches had been dug in the riverbed posing threat to the movement of human beings and animals. Besides posing a threat to environment and lives of villagers, illegal mining was causing loss of revenue worth lakhs of rupees every year to the exchequer due to evasion of royalty and local taxes. Apart from this, the Chakki railway bridge at Kandwal is also facing the threat from the illegal mining of Chakki riverbed. The railway authorities had taken up the issue of curbing the menace with the state government several times but in vain.
The Kangra police, which had stepped up its vigil against illegal mining activities under the guidance of the then SP Sanjiv Gandhi a few months ago, have suddenly stopped its action. Gandhi had formulated a strategy in July before his transfer to Una district to curb the menace and extraction of minerals with heavy earth excavating machinery. The Kangra police had also conducted a survey of stone crusher units set up near the Chakki rivulet bordering Himachal Pradesh and neighbouring Punjab states, especially in Kandwal, Khanni, Mazra and Riyali areas under the jurisdictions of the Nurpur and Indora police station.
In the survey report, the police had gathered details of heavy earth excavating machineries like JCBs and tippers possessed by stone crusher owners. Apart from this, the survey report also contained the information of existing stock position of stone crushers, the area for which stone crusher owners have valid lease and the area from which crushers have extracted minerals by resorting to heavy earthremoving machinery.
As per information, the Kangra police had decided to lodge FIRs with theft section of the Indian Penal Code and other sections of violation of the Mining Act in illegal mining cases. But the whole strategy has been shelved, sources revealed.
Top News