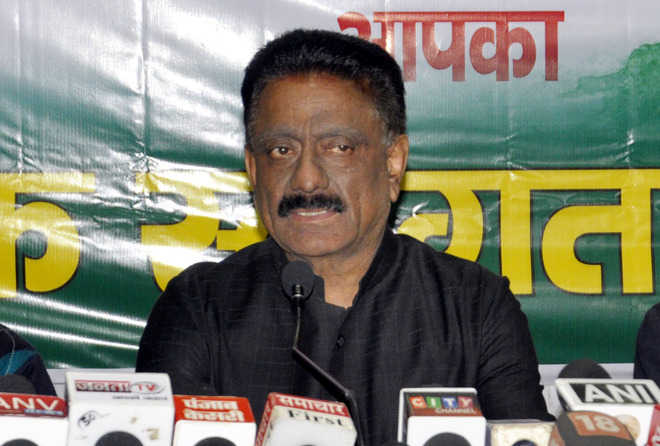 Tribune News Service
Shimla, October 9
The Congress today urged the Election Commission of India to transfer Sirmaur Deputy Commissioner as he was acting more like a BJP agent than a responsible officer. It also decided to show black flags to Speaker Rajeev Bindal and Irrigation and Public Health Minister Mahender Singh for misusing official machinery.
Addressing a press conference here, Congress president Kuldeep Rathore said the DC had failed to take action on the complaints filed by the Congress. "He is trying his level best to ensure the victory of the ruling party and as such we have approached the ECI to transfer him so as to ensure free and fair poll in Pachhad," he said.
He also accused Bindal and Mahender Singh of blatantly violating the model code of conduct. "It is most inappropriate for the Speaker to campaign for his party when he is expected to be neutral. He is lowering the esteem of the constitutional post," he said. A complaint in this regard had been made to the ECI.
He also accused Mahender Singh of blatantly misusing official machinery to sway votes in favour of the BJP. "A truck carrying pipes, used in setting up polyhouses, was stopped by Congress leaders and workers which clearly showed how the BJP is desperately using official machinery to woo voters in Pachhad," he alleged.
Rathore said the BJP was trying to deviate the focus of the electorate from economic slowdown, rising unemployment and major decline in exports.
He said the Congress would target Mahender Singh for making backdoor entries of Jal Vahaks in violation of norms. "He is in the habit of acting in violation or rules and does not even listen to the Chief Minister," he said. The Congress would open a front against the IPH Minister after the bypolls get over.
Replying to a query, the Congress chief said former minister Sudhir Sharma would shortly start campaigning. It was owing to health reasons that he had stayed away from campaigning for the party candidate.