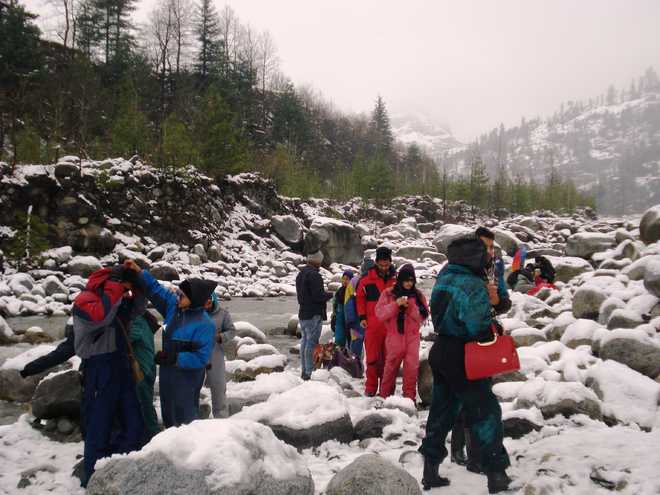 Bhanu P Lohumi/ MC Thakur
Shimla, December 12
The normal life was disrupted as tribal areas and other higher hills experienced intermittent heavy snowfall while other mid and lower hills were lashed by heavy rain, breaking the 10-week long dry spell. Kufri on the suburbs of Shimla received a mild snowfall and tourist made a beeline to Kufri to enjoy the snow.
The upper Manali region experienced snow, while the lower parts were lashed by rain today, bringing down the temperature down. The town also received a light snow last night, but it melted in a few hours.
The vehicular traffic on the Manali-Rohtang road was disrupted due to snow near Nehru Kund, about 5 km from here, this morning. Tourists going on sightseeing tour to the Solang valley, Kothi and Gulaba had to stop near Nehru Kund. As a precautionary measure, the movement of vehicular traffic was also stopped.
Hundreds of tourists rushed to Nehru Kund to see the fresh snow. The famous ski slopes of the Solang valley, which are used for skiing courses, also received snow.
Tourist resorts of Narkanda, Sangla, Srikhand and Kharapatthar also received the snowfall of the season.
Several places in the tribal areas were cut off and 24 roads, including the link roads, were closed in Rohru, Rampur and Kinnaur areas.
Several areas were drenched in rain and Gaggal was the wettest with 114 mm rain while Dalhousie, Dharamsala and Dehra Gopipur received 112 mm,111mm and 96 mm rain.
The maximum temperatures dropped by five to six degrees to stay at 18 degree at 15.2 degree in Una and 13.9 degree in Sundernagar, followed by Dharamsala 12.8 degree, Solan and Bhuntar 12.2 degree, Shimla 8.3 degree, Kalpa 4 degree, Dalhousie 2.1 degree and Keylong 1.5 degree.
There was a marginal change in the minimum temperatures and Keylong, Kalpa and Manali were the coldest with a low of minus 2.4 degree, minus 0.2 degree and 0.6 degree. Shimla recorded the minimum temperature at 4 degree, followed by Una 5.2 degree, Palampur 6.0 degree and Solan and Bhuntar 7.0 degree.
The local MeT office has predicted rain or snow at many places in lower and higher hills over next two day and dry weather thereafter.
Admn prepared
Shimla District Commissioner Rohan Chand Thakur said all arrangements were in place and necessary instructions had been issued to departments and machines had been deployed at selected places to remove snow for ensuring smooth traffic movement.
He said power supply was restored in Chopal and Rohru subdivision of the district while work was on a war footing to restore electricity in the remote areas of Rampur. Measurers had been taken to ensure that commodities of daily needs were available, he added.