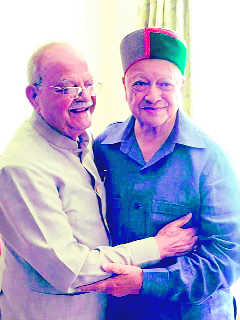 KS Tomar
It was a perfect photo opportunity, when former Union Telecom Minister Sukh Ram visited decades-old arch political rival and six-time Chief Minister Virbhadra Singh in Delhi and hugged him, pointing towards the start of a new era of reconciliation, which is primarily guided by the allotment of Congress ticket to Sukh Ram's grandson Ashray Sharma from Mandi parliamentary seat.
A debate, however, is already doing the rounds in the corridors of power, whether two octogenarians have really buried their hatchets or not? There are valid and intrusive reasons behind this curiosity, as suspicion coupled with lack of mutual trust defies the logic, which seems to be dangerous if we take into consideration Sukh Ram's sole interest in ensuring the victory of his grandson.
Sources reveal that Virbhadra's son Vikramaditya and Sukh Ram's grandson Ashray had a closed-door meeting in Delhi, where they tried to sort out the issues which were the root cause behind the rivalry. Both young leaders felt the need to give a fresh start to the relation, which must be free from animosity. Vikramaditya and Ashray reportedly told the octogenarian leaders that the former would focus on state politics and the latter would work in Delhi. Hence, no clash of interest was possible in future. But it is not clear yet whether the differences have been sorted out or the status quo remains, even though the two veterans met.
One thing, however, has been established that there are no permanent foes or friends in politics, which applies to the BJP or Congress both, especially when we ponder over the opportunism shown by Sukh Ram to enjoy the fruits of power. BJP has got valid reasons to get upset, as Sukh Ram ditched the party at this juncture, when Modi was fighting for every seat to come back to power.
Former Union Telecom Minister Sukh Ram was not 'tainted' but a 'prized catch' for the BJP in 2017 Assembly elections, when he ditched the Congress and joined the ruling party, whereas now, he has become a devil or 'Aya Ram Gaya Ram' following his 'homecoming' which may change the political equations in Mandi.
Secondly, Sukh Ram was BJP's favourite in 1998, when he helped former CM Prem Kumar Dhumal in forming the government with the help of five MLAs from his outfit - Himachal Vikas Manch, when he refused to support Virbhadra, who had fallen short of a simple majority.
But in changing political scenario, CM Jai Ram Thakur has dubbed Sukh Ram as "Aya Ram Gaya Ram who will not make any difference to the outcome of Mandi Lok Sabha seat, as he is a spent force in the district as well as state". Sukh Ram, however, was a political heavy weight a year ago, when he joined the BJP with his son Anil Sharma.
Political observers said Virbhadra's support was essential to win the Mandi seat, but the moot question — whether Virbhadra and his loyalists will wholeheartedly work for the success of his rival's grandson, especially when the former CM was deprived of Chief Ministership in 1998, as Sukh Ram connived with Dhumal to make him the CM — remains unanswered.
As per the track record of Virbhadra, he rarely spares his rivals and it appears that Sukh Ram may not be an exception. Earlier, Virbhadra had also adopted a similar approach and tried to patch up with Sukh Ram, when his wife Pratibha Singh successfully fought the election from Mandi seat in 2004. Virbhadra's disapproval can be gauged from his comment when he said: "I was not consulted by the high command prior to re-admitting Sukh Ram, who keeps on joining and quitting the party."
Another worrying factor for Sukh Ram's grandson relates to old rivalries with senior leaders of Mandi, including Kaul Singh Thakur, Rangila Ram Rao, Prakash Chaudhry and others, who will never like to witness the revival of this family, though they may not publicly express their resentment. Whether Virbhadra's loyalists will work for the success of Ashray, remains a mystery. On the contrary, CM Jai Ram Thakur's prestige is at stake in Himachal, especially in Mandi seat, but he is likely to get positive response from his ministers and MLAs, who will have to ensure victory for their survival. Sources said the CM has warned leaders not to show any laxity which may cost them dear. In Shimla Lok Sabha seat, Dhani Ram Shandil may not face much problem, as all senior leaders are unanimous over his candidature. Hence, they may work in tandem to ensure his victory. On the same analogy, Pawan Kajal, a sitting Congress MLA, got the party ticket from Kangra seat, who belongs to the OBC category. He expects the support of senior leaders belonging to Rajput and Brahmin category. But Kajal's rivalry with former Cabinet Minister GS Bali is well-known and it will depend upon his efforts whether he is able to patch up with his rival on time. In Hamirpur, Ram Lal Thakur, former minister and five-time Congress MLA, has been allotted the ticket, who will take on sitting BJP MP Anurag Thakur, which may lead to the division of Rajput votes.
(Writer is senior journalist. Views are personal)