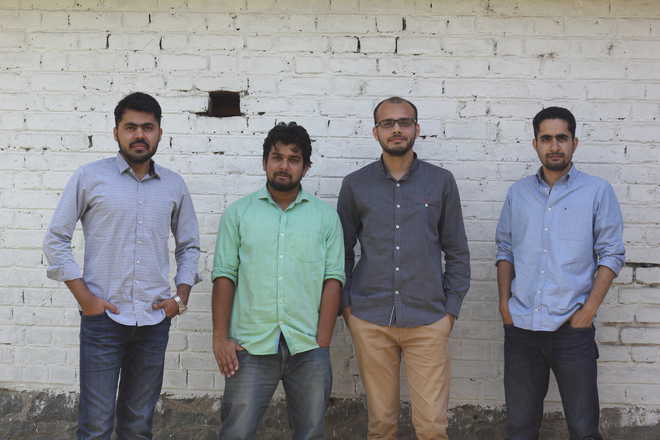 editorial@tribune.com
Rifat Mohidin
Tribune News Service
Srinagar, October 5
When Imbesat Ahmad, an IIT-Kharagpur alumnus, came to Kashmir in 2012 in his 20s to train students at a workshop, he was blown away by the responses of students.
The teenagers who were part of his class had no idea about their future. There was no clarity. Ahmad said he felt they were not living in the 21st century.
"At that very moment, I decided that I will come to this place and will guide these students, who had all the potential but needed proper guidance," says Imbesat, who gave up lucrative offers to work in Kashmir as a teacher.
In 2013, he came to know that a resident of Srinagar, Mubeen Masudi, IIT-Bombay alumus in his 20s, had started a coaching centre, Rise Institute, at the City Centre where they teach students of classes XI and XII (non-medical) and give coaching for competitive exams with a focus on the JEE mains.
"I contacted him and I roped in two more friends, one from IIT-Kharagpur and another from Delhi College of Engineering, and we started running the institute," says Ahmad.
Today, the four engineers — Imbesat, Mubeen, Salman Shahid, an IIT-Kharagpur alumnus, and Saifi Kareem, former student of Delhi College of Engineering — are successfully running the institute, where students hold a fortnightly talk 'kath bath' (let's talk) on their ideas and career opportunities. The mantra of these young teachers is to train the students for smart work and hard work and to motivate them to dream big. "We have trained around 300 students. Out of these, more than 120 students are studying at the National Institute of Technology (NIT), Srinagar, eight students are studying at IITs & IIITs," says Ahmad, adding that one of their students got selected at the University of Washington.
Another teacher, Mubeen Masudi, who came up with the idea of Rise, left his corporate job in Mumbai to guide his friends and cousins who studied in Kashmir.
"The thought of helping my friends and cousins, who deserved to do better, pulled me back to Kashmir to start Rise," says Mubeen.
"We don't act like teachers," says Imbesat, adding, "We train the students to do self-study and work hard on their own. We feel a sense of achievement being in Kashmir."