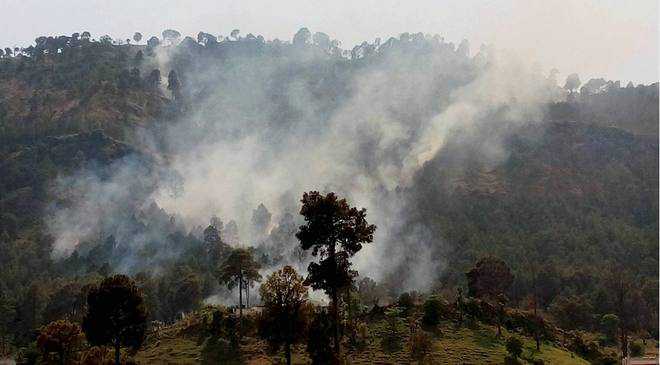 Majid Jahangir
Tribune News Service
Srinagar, February 24
After a gap of 15 years, when India and Pakistan inked a ceasefire agreement, the troops on both sides today exchanged artillery shells across the Line of Control (LoC) in the Uri sector, triggering panic in the area as more residents were evacuated to safer places.
As the ceasefire violation along the LoC has now almost become daily, the use of artillery by the two armies has effectively put the 2003 agreement in tatters. The artillery shells were fired despite bad weather in the area.
From Monday, the firing in Hajipir, Uri sector, over 120 km from Srinagar, was restricted to mortar shelling and small arms fire but things escalated on Saturday morning as heavy artillery was exchanged. There were, however, no reports of casualities even as seven villages, having a population of 8,000, were affected.
"We responded to their artillery shelling and targeted their posts," defence sources said.
Uri Sub-Divisional Magistrate (SDM) Sagar D Doifode said in the wake of artillery exchange, a high alert had been sounded in Uri.
"We are taking all precautions and have evacuated residents from the shelling-prone area," Doifode told The Tribune.
Srinagar-based defence spokesman Col Rajesh Kalia said Pakistan violated ceasefire around noon in the Uri sector.
"The unprovoked ceasefire violation by Pakistan in the Uri sector since 11.50 am. Our troops retaliated," said the spokesman.
There were reports earlier this week that Indian troops had damaged a Pakistani bunker in the Hajipir sector.
Pakistani troops today targeted many areas and Indian posts along the LoC in Churanda, Silikote, Balakote and Tilawari villages. Two houses were damaged in the Pak shelling in Silikote area and many residents were evacuated.
A villager said announcements were made by the Pakistan army from mosques across the LoC since the morning, asking residents on this side to vacate houses.
"These announcements, followed by intense shelling, created a panic in the village," he said.
The local administration has pressed into service scores of vehicles, including ambulances, to evacuate civilian population.
"A high alert has been sounded in Uri and even NHPC officials have been told to alert their men as they have two power houses here," the SDM said.
The latest flare-up began on Monday when Pakistan violated the ceasefire in the Uri sector, injuring three civilians. A day later BSF Constable Sunil Murmu was killed in the Tangdhar sector in Kupwara district. On Wednesday, two Pakistani soldiers were killed when a counter-assault was launched by the Indian Army and BSF in Tangdhar. On Thursday, a fresh ceasefire violation took place in the Uri sector and around 500 villagers were shifted to a rehabilitation centre. On Friday, the Army claimed to have foiled a Border Action Team attack in the Tangdhar sector.
Top Stories