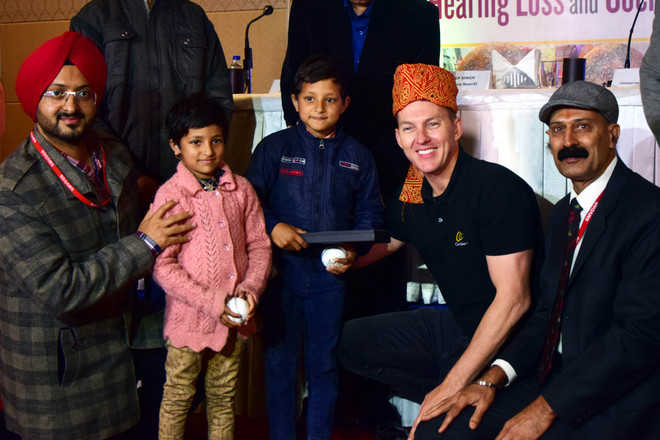 Tribune News Service
Jammu, November 29
Former Australian cricketer Brett Lee, on his daylong visit to the city, created awareness on hearing impairment during a function here on Thursday.
Cochlear's Global Hearing Ambassador attended the function organised in collaboration with the Shri Mata Vaishno Devi Narayana Superspeciality Hospital, Kakryal.
Remembering his cricket days, Lee said tumbling of Sachin Tendulkar's wicket was my favourite sound, which did not happen so often.
Sharing his experiences of awareness on hearing impairment, Brett Lee said: "Today, hearing loss is a grave public health concern. Around 34 million children across the globe suffer from some kind of hearing disability and India has a huge share in this."
"Everyone must be able to hear the voices of their loved ones, family and friends. Parents and family members must not ignore even the smallest sign and should take speedy action in case the problem is diagnosed," he added.
Dr (Brig) Man Mohan Harjai, chief administrative officer, Kakryal hospital, said: "In less than a year, our hospital has successfully performed nine cochlear implant surgeries. We are delighted when we see the progress of our young superstars! We believe that none of child deserves a life of silence."
As per the 2011 Census, India has more than 50 lakh citizens who suffer from some form of hearing loss.