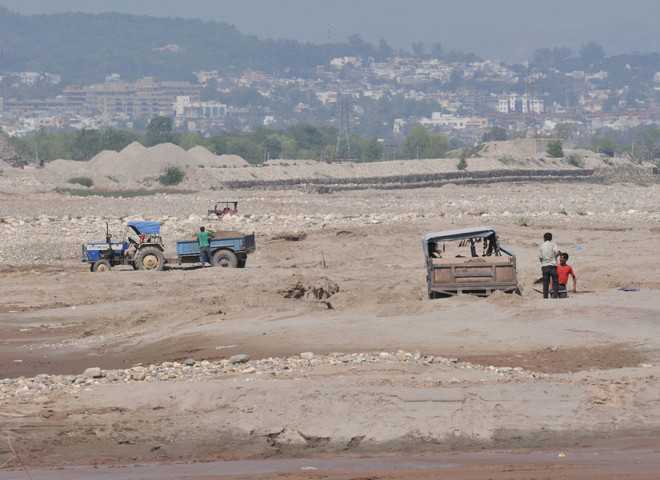 Vikram Sharma
Tribune News Service
Jammu, September 7
Tractor trailer owners and drivers are demanding lifting of the ban on the extraction of sand and gravel from the Tawi river bed as they allege that carrying material from far-off sites for construction projects in the city is costing them dearly.
In this regard, tractor trailer owners have been launching protests since the past two days to urge the authorities to come to their rescue as many have been rendered jobless.
"The state has banned the mining of sand and gravel from the Tawi. We have to reach out to far-off places like Bajalta and Nagrota to load construction material for various projects. The sand trolley earlier costed Rs 1,000. However, now its price has increased to Rs 2,500, which the customer refuses to pay," said Arif Hussain, organisor member, Kisan Tractors' Association, RS Pura.
The J&K High Court had two years ago imposed a ban to keep a check on the uncontrolled extraction of minerals from local rivers like the Tawi, the nullah near Sidhra bypass bridge, Jajjar nullah and Kattal Battal. Though the ban was imposed to save the Tawi riverbed on which four bridges are constructed, other sites of mining in the peripheries were not brought under the prohibition.
"The state should release a rate list for city tractor trailer drivers as they have to bring the material from far-off places. Besides, illegal mining is also going on unabated in the riverbed in connivance with officials against which no action is being taken," alleged Talib Hussain, president of the association.
Farooq Ahmad Khan, director, geology and mining department, talking to The Tribune, said the ban extended from Sidhra Bridge to Fourth Bridge at Bhagwati Nagar while the further expanse of the Tawi was open for extraction at both ends. "Besides, there is a High Court direction which the tractor drivers have to abide," he said.
Sources in the department said despite the ban, unabated mining was a regular phenomenon which had not only been causing a huge loss to state exchequer but also damaging strategic bridges, causing soil erosion and impacting the course of the river.
"Mining and extraction has always been controlled by a powerful lobby. Though the department makes regular attempts to keep a check on its activities, the lobby has a strong political influence," the source said.