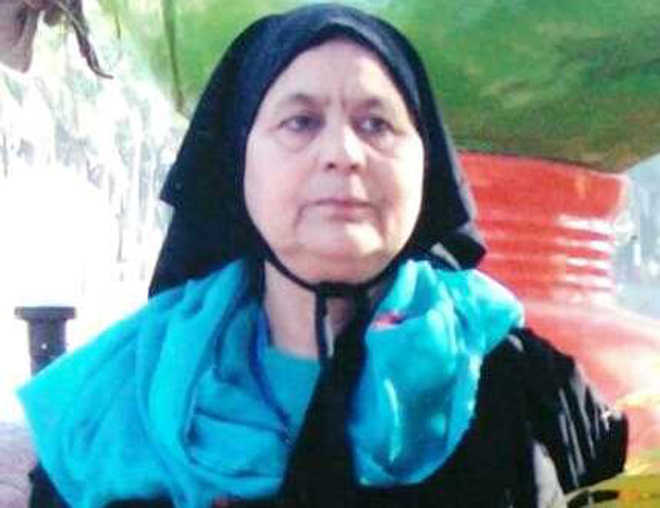 Tribune News Service
Srinagar, October 5
Atiqa Bano (77), curator of Kashmir's first of its kind private museum 'Meeras Mahal', passed away yesterday evening.
Popularly known as 'Behenji', her 'Nimaz-e-Jinaza' was offered today morning at Sopore in Baramulla district.
She was known for setting up 'Meeras Mahal' in 2001 that houses the rich and diverse cultural and artistic heritage of Kashmir. It is situated on the banks of famous Wular Lake at Noor Bagh near Sopore town.
Born in Sopore, Bano had started her career as a school teacher in 1958 and later she became the inspector of schools in 1965 and Chief Education Officer in 1977. In 1994, she was appointed as joint director for School Education and then Director, Libraries and Research, Jammu and Kashmir, in 1997.
Zafar Iqbal Manhas, vice-president, J&K Academy of Art, Culture and Languages (JKAACL), condoled the demise and described here as a 'pious woman who people will remember for her role in collecting and disseminating the rich cultural heritage of the state'.
A condolence meeting was held at the academy headquarters here today which was chaired by JKAACL secretary Aziz Hajini and attended by Director, Archives, Archaeology and Museums, Mohammad Shafi Zahid, Aijaz Ahmad Kakroo and Gulzar Ahmad Ganie among others.
Literary body Adbee Markaz Kamraz (AMK) too expressed shock over the demise of Bano, who also was the vice-president of the organisation.
The AMK described her as 'an epitome of simplicity and dedication'.
"She was a well-known educationist of the state and played an important role in the empowerment of women. As a vice-president of the AMK, she contributed hugely to the language movement," the AMK statement said.
CM mourns death
Chief Minister Mehbooba Mufti has expressed sorrow over the death of noted educationist, heritage activist and former Director, Education and Libraries, Atiqa Bano
In a condolence message, the Chief Minister said the efforts put in by late Atiqa Bano to preserve the past heritage and culture of society was noteworthy and worth emulating
Top Stories