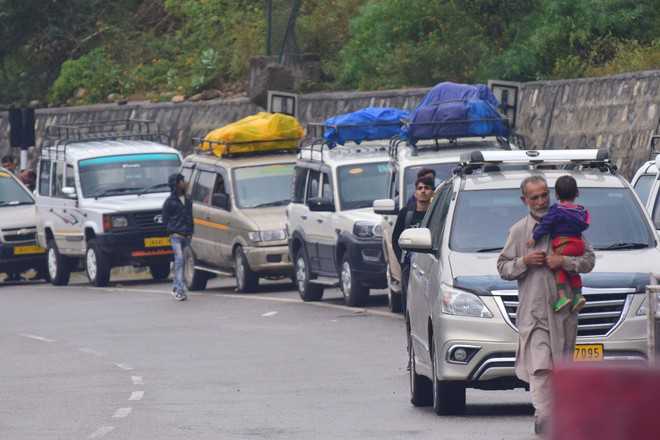 Ranjit Thakur
Jammu, November 7
The season's first snowfall has snapped the air and surface links between newly created Union Territories of Jammu & Kashmir and Ladakh and rest of the country on Thursday.
On Thursday, thousands of trucks and passenger vehicles were stranded on the Jammu-Srinagar national highway due to the closure of road followed heavy snowfall at Jawahar tunnel. The historical Mugal road has also been shut for all types of vehicular movement due to accumulation heavy snowfall.
"We are not allowing Srinagar-bound vehicles due to closure of highway at the Jawahar tunnel followed heavy snowfall. Around 5 inches of snow had accumulated till early morning," Senior Superintendent of Police (SSP), National Highway, JS Johar said.
The stranded passengers on the Srinagar highway have showed displeasure over arrangements and demanded early restoration of the highway.
"Women and children have been struck here since early morning. We are facing great hardships over the closure of highway. We urge the authorities to restore the highway as early as possible," Ali Mohammed Wani, a passenger, said.
"Since the past two days, we have been struck midway and facing great hardships, the authorities are mute spectators and are doing nothing to restore the highway. We have been facing this situation since years and government is doing nothing to improve the situation," Nazir Ahmed, another passenger, said.
"Thousands of trucks loaded with goods and passenger vehicles have been struck between Nagrota and Udhampur due to closure of highway. We are convincing people not to take journey under such poor weather conditions and get all information from traffic control room before making plan," DTI, Nagrota, Bhatta Choudhary said.