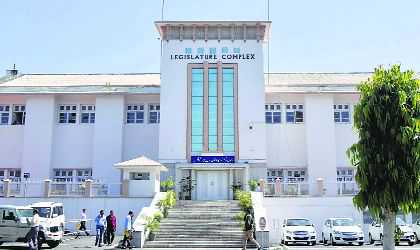 Jammu, October 17
Ahead of attaining the status of Union Territory on October 31, the bicameral (two-tier) legislature in Jammu and Kashmir came to an end today with the government abolishing 62-year-old Legislative Council, the Upper House of Legislature, and directing its staff to report to the general administration department (GAD).
The council was abolished under Section 57 of the Jammu and Kashmir Reorganisation Bill, 2019, introduced in the Rajya Sabha on August 5 and subsequently passed by both Houses of Parliament.
According to the government order, the council staff would report to the GAD by October 22. The council had the staff strength of 116 officials, including an Additional Secretary, three Deputy Secretaries and three Under Secretaries.
As per the Reorganisation Bill, J&K will be bifurcated into two UTs — J&K and Ladakh — on October 31. J&K will have a State Legislative and will get to elect its own representatives, while Ladakh will be run by a Lieutenant Governor who will act as an administrator.
"The vehicles purchased for Legislative Council are transferred to Director State Motor Garages, while the Secretary, Legislative Council, shall hand over building of council along with furniture and electronic gadgets to the Director Estates," the order said. — TNS