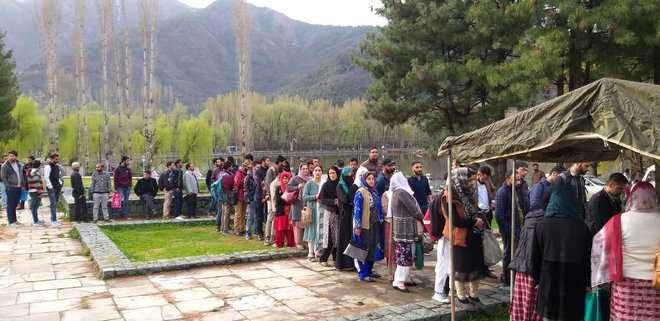 M Aamir Khan
Tribune News Service
Srinagar, April 26
Popular television series 'Kaun Banega Crorepati' is all set for its Kashmiri debut as the programme will be going on air on the local Doordarshan channel. Touted as the 'biggest-ever programme' on DD Kashir, the show, titled 'Kus Bani Koshur Karorpaet?' (Who will become Kashmiri crorepati), will be telecast from next week and has received a huge response from locals.
"This is our biggest programme. We have never produced a show on such a large scale. The programme is being produced in collaboration with Sony TV in Kashmiri language. It is being produced by the same team (Studio NXT) that produces the KBC anchored by Amitabh Bachchan. It is exactly on the same pattern but in Kashmiri language," in charge director, Doordarshan Kendra, Srinagar, GD Tahir told The Tribune.
He said the programme would go on air from April 29 from 8 to 9 pm on weekdays.
The makers said the auditions for the programme had received an overwhelming response from the locals.
"We received over 1.5 lakh calls of which 1,200 were selected for auditions. Two auditions were held each in Srinagar, Jammu and New Delhi," said a member of the programming team, wishing anonymity.
He said seven episodes had already been shot in Noida and they continued to receive massive response from locals.
The koshur KBC is being anchored by well-known actor, anchor and stand-up comedian Rayees Mohiuddin.
The programming team member said Mohiuddin had been selected after auditioning several Valley-based theatre and television actors.
"We zeroed in on Rayees beacuse we found him informed, articulate and witty. He is a popular entertainer and stand-up comic with a huge youth connect in the Valley. He is also a seasoned radio jockey and an actor too," he said.