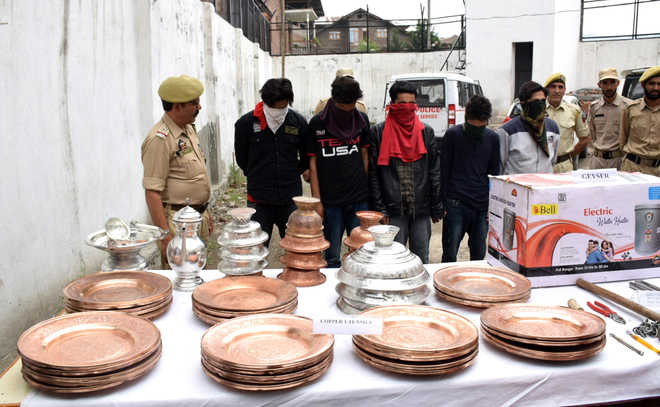 Tribune News Service
Srinagar, June 15
The police have busted a gang of burglars which was involved in a series of thefts in Srinagar district.
At least five gang members, who hail from various districts of the Valley, have been arrested by the police.
The police had registered a case at the Safakadal police station after burglars looted a godown in city.
"During investigation, we worked on various leads. After strenuous efforts, using both technical and scientific aids, the team zeroed in on a few suspects. Our special teams succeeded in making a breakthrough and were able to nab a group of organised burglars from various parts of the city and adjoining districts," Senior Superintendent of Police, Srinagar, Haseeb Mughal, said while addressing a press conference.
Those arrested in the case have been identified as Mohammad Yaseen Hajam of Trikolbal, Pattan; Muzaffar Ahmad Dar of Hanjiwera, Pattan; Altaf Ahmad Mir, Bemina; Irfan Ahmad Nagar of Saida Kadal; and Serwar Hussain Bhat, Labartal, Budgam.
After conducting recce of big godowns/warehouses and shops in the district, the gang struck in night and decamped with valuables.
"The gang would take the help of special tools like bolt-cutters to break open the locks and get access to the godowns without creating much noise. The gang members used to take CCTVs and electronic surveillance equipment along with them so as to destroy any video footage/evidence," he said.
Stolen property worth several lakhs was recovered on the disclosure of the accused so far and vehicles used in the commission of crimes have also been seized. "The accused have disclosed their involvement in various other thefts and burglaries within the district," he said.
Top Stories