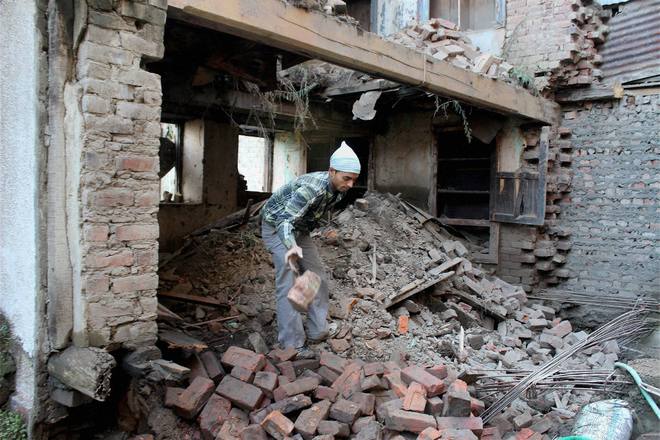 Azhar Qadri
Tribune News Service
Srinagar, October 27
The 7.5-magnitude earthquake, which the Indian Meteorological Department described as great in intensity, had a marginal effect on the life and property in the Kashmir valley.
While three persons, including two women, lost their life in the quake-related incidents across the state a handful of residential houses suffered minor damages. The women had suffered fatal heart attacks.
In Kashmir, two persons died in the tremor-related incidents. However, there was little damage to public and private infrastructure.
The initial assessment carried out by the state government revealed that a handful of residential houses suffered minor damages, including cracks in the structure.
One residential house collapsed in the Achabal area of south Kashmir's Anantnag district while the building of a degree college at Handwara town in north Kashmir had developed cracks due to the earthquake.
In Srinagar, six civilians were injured while seven houses in Zadibal and Aali Kadal localities suffered minor damages.
Most parts of the Valley, covering Srinagar, Ganderbal, Baramulla, Kupwara, Bandipora, Budgam, Anantnag and Pulwama districts, and Doda, Ramban and Kishtwar districts in Jammu division fall under seismic zone V.
An association of doctors in the region, meanwhile, sounded an alarm at the preparedness of hospitals to deal with such eventuality, saying that medical facilities in the region lacked treatment and surgical capacity to deal with mass casualties during an earthquake.
The Doctors Association Kashmir in a statement said hospitals in Kashmir lacked infrastructure, staff, space and supplies, to manage sudden influx of patients during disasters.
"There are no designated disaster wards, no disaster stores and no concept of reserved staff in case of large scale disasters," it said.
The 7.5 magnitude earthquake on Monday afternoon, which had its epicentre in the Hindu Kush region of Afghanistan, created panic in the region as residents rushed out of their houses and offices. The headquarters of the state government were also temporarily evacuated.
Top News
Were returning from Amarnath yatra duty
While RJD got 16 ministerial berths, Nitish Kumar kept 11 fo...
Jammu and Kashmir Lt Governor Manoj Sinha has condemned the ...
A prime minister for six years between 1998-2004, Vajpayee d...
The men, who are non-exclusive partners living in the same h...