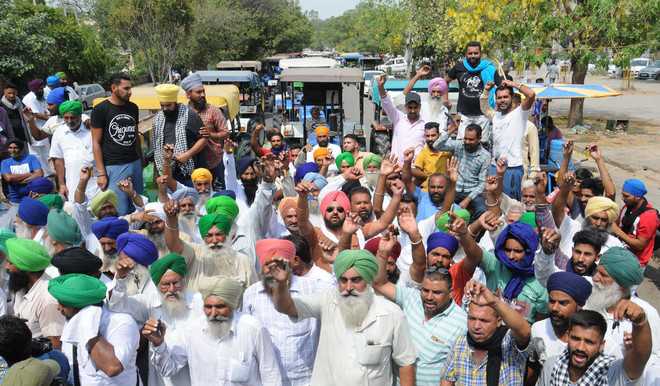 Avneet Kaur
Jalandhar, June 1
Hundreds of farmers from the city and nearby villages on Friday drove down to the office of the Deputy Commissioner here to hand over the keys of their tractors as part of a unique protest against the rising diesel prices and the release of their Rs 900 crore that is due from sugar mills.
Organised by the Bharti Kissan Union Punjab, Kadian, the protesters condemned the Central Government claiming that the hiked fuel prices were adding to the woes of the debt-ridden farmers of the country. "The price of diesel, which is an important input cost of cultivation, has risen so much that it has gone out of the reach of the poor farmers," said, Jasbir Singh Litan, Kapurthala District President.
He further said, "There is a big difference in the rate of crops being received by the farmers and traders. A farmer is selling his crop at the rate of Rs 5-6, whereas the same crop is being sold by the traders at a price Rs 20-25. The consumer as well the farmers have to bear the brunt while the traders are enjoying the benefit just because of ill-policies of State Government who hasn't fixed the crop prices."
Satnam Singh Minta, Senior vice-president of the Jalandhar unit said, "Apart from this, we had stopped selling milk and vegetables as ferrying these in tractor was no more affordable for us. People can buy these from us directly. The protest will continue till June 10,"he said.
Top News
Wearing of masks must in all educational institutions, gover...
Media report says initial assessment indicates 24-year-old m...
According to Rushdie's agent Andrew Wylie, nerves in his arm...
The exercise is scheduled to be held at Manesar in Haryana i...
State government issues notification, move expected to save ...