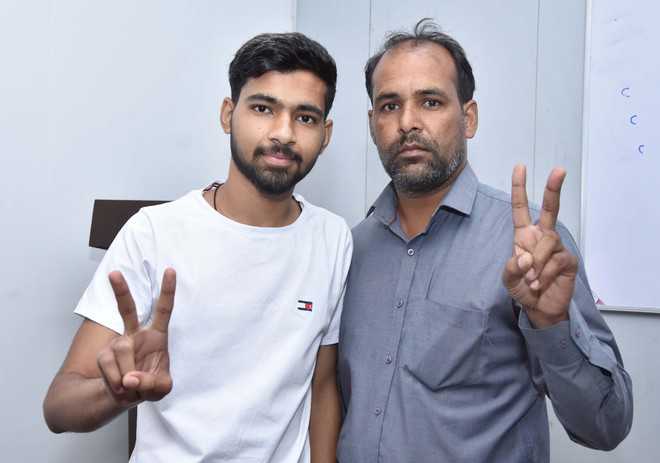 Our Correspondent
Jalandhar, June 7
Sandeep Kumar (19), son of a carpenter Roshan Lal of Jalandhar, has cleared National Eligibility-cum-Entrance Test (NEET), the results of which were declared recently.
He scored rank 12354 (category) and wanted to pursue his studies at the best medical college. His favorite subject is biology, he said.
Talking to the Tribune, Sandeep Kumar said: "I have been preparing for the exam for the past one year at Modern Institute, Jalandhar. I used to commute around 30 km daily by public transport."
He said it wasn't easy for him to clear the test as his father had to face financial hurdles to provide the best possible education to him by working for 11 to 12 hours daily. Sandeep added that he used to study for 12 to 14 hours every day.
Roshan Lal said they had already started calling Sandeep a doctor, adding that Sandeep didn't have a cellphone and planned to purchase one after his admission in MBBS.
Sandeep said: " After completing his education, I will help my father to have his own shop. I have a dream that my sister would become a teacher."
Son of laboratory assistant clears NEET
Dildeep Singh (19) of Bhikhowal village in Hoshiarpur district, son of government school senior laboratory assistant, has scored rank 12354 (category) rank in NEET exam.
His father said: "Now we are waiting for counselling so that my son can secure an MBBS seat."
Dildeep Singh said: " My role models are my two elder sisters — one has completed BTech and the other is pursuing MVSC (pathology).
Top Stories