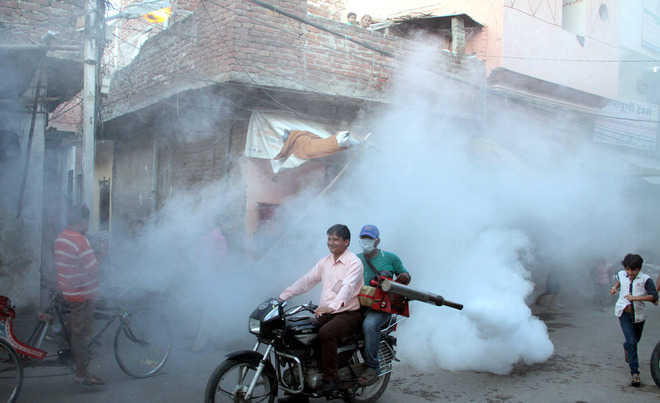 Aparna Banerji
Tribune News Service
Jalandhar, August 17
With the surfacing of as many as five more dengue cases in the district and its periphery, the total number of people having tested positive for it in the district have reached 14.
While until August 12, as many as eight dengue cases had been reported in the district, in the past five days, four new patients have surfaced. The cases reported so far include residents of Rattan Nagar, Amanat Pur, New Hardev Nagar, Mohabbat Nagar, Lamma Pind, Basti Bawa Khel, Chak Guru, Rasti Mohalla, Sekhwan Khu, New Dashmesh Nagar, Bhogpur and Jamshr Khass.
The two cases reported from Kapurthala (Phagwara) are from Onkar Nagar and Hargobind Nagar.
While of the 12 reported from Jalandhar, five are rural cases, the rest are all urban cases. Meanwhile, of the both the cases from Kapurthala are urban. Notably, while the health department also recently started challaning drives for dengue – a first – the number of cases this year, so far are much controlled compared to the thousands of positive dengue patients reported last year.
District IDSP incharge Dr Surinder Kumar said: "We are surveying affected areas and carrying out regular drives to spread awareness. The monthly challaning exercise shall also be carried out on Friday to encourage people to keep their surroundings clean and ensure that dengue larvae is kept at bay."
On August 12, as many as 21 people were challaned after the health and Municipal Corporation teams jointly found larvae of dengue or malaria at their establishments. The teams of the Municipal Corporation and health department jointly carried out drives at the Shaheed Babu Labh Singh Nagar, where spots prone to water accumulation like flower pots, broken utensils ad coolers were checked.