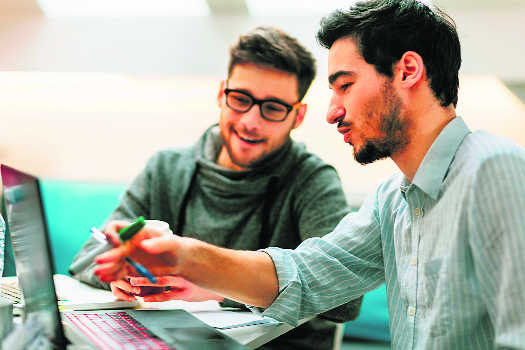 Usha Albuquerque
As computers, mobile phones and digital gadgets take over so many tasks in our lives we need a means to communicate with these machines in a language that machines can handle and we can understand. Tasks such as speech recognition (e.g., Siri), speech synthesis, language translation (e.g Microsoft's Bing, Google Translate), multilingual content creation, grammar checking, text mining, information retrieval, "Big Data"applications, and many others have been devised to be able to do just that. They have been created by computational linguists who develop computer systems that deal with human language.
Thanks to past breakthroughs in computational linguistics, computers can already understand basic voice commands, read typed text aloud, and learn speech patterns for the purpose of talk-to-text transcription. Unfortunately, they don't do any of these tasks particularly well. Therefore, computational linguists work to enhance and expand their capabilities, which eventually will allow for the complete automation of tasks associated with the translation, transcription, generation, and comprehension of language.
Work profile
Computational linguistics is an academic discipline that combines elements of linguistics, software engineering, artificial intelligence and electrical engineering to help machines process human language and help linguists understand language through computer models.
Computational Linguists research how humans learn, develop, and use language, and study the rules of language — spelling, syntax, grammar, punctuation, and semantics, in English as well as other languages, and work with software developers to create computer programs capable of following those rules in order to understand and generate natural speech. A computational linguist , therefore, works as a computer scientist, interpreter, linguist, translator, psychologist and a computer programmer, all rolled into one.
In other words, computational linguists use natural language processing and programming to teach computers how to process and produce human languages, providing linguistic rules for various natural language processing tasks. These are used internally in a computer/mobile phone and are available to the user .
Some duties of computational linguists include:
Get a complete understanding of program requirements
Build, test and enhance language models
Contribute to the development team by providing constructive ideas during design and interface discussions
Write scripts or codes to convert data to internal models
Implement algorithms (such as speech recognition and synthesis) and related software on hardware platforms
Improve natural language search technology resources
Getting in
Computational linguistics is a sub-field of artificial intelligence, and therefore utilises linguistics, computer science, and math. Those getting into this field require to have a good understanding of both programming and linguistics. A knowledge of programming is important for computational linguistics particularly programming languages such as Perl, Java and Python. Maths and statistics is useful as Computational linguistics often uses statistical methods — programming also requires some background in maths.
The most relevant courses for computational linguists are those that deal with structural aspects of language (syntax, semantics, phonology, phonetics), usage patterns and variation (sociolinguistics, discourse), psycholinguistics, and research methods (including corpus linguistics).
There are limited courses in computational linguistics at undergraduate level, but you can get into this field with a master's degree in computational linguistics after courses in computer science, maths, statistics, or linguistics.
The International Institute of Information Technology at Hyderabad offers an MS and MTech in Computational linguistics, as well as a 5-year dual degree course in BTech in Computer Science + M.S by Research in Computational Linguistics.
MTech (CL) is an intensive two-year programme in which students with computer science background get an opportunity to learn how to apply computational knowledge for natural language processing that includes machine translation, information extraction and retrieval and speech technology.
Students of BTech CS or any other branch of Engineering, MCA and MSc or MSc mathematics can apply for this course.
The MS in computational linguistics is a research- driven master's program methat aims at initiating students in the field of research in language technology and the skills pertaining to application of computers and computational sciences. Those targeting this course are expected to have a BTech/BE degree in CS from a reputed institution.
Job prospects
Many get into this field after a bachelor's or masters degree course in computer science, maths, statistics, or linguistics and learn on the job. Most employers however, look for applicants with at least three years of relevant experience. Work experience as a computer programmer, data analyst, and software developer can help graduates develop a solid background for this field. It is also possible to find work related to computational linguistics with companies that develop software, especially translation tools or GPS devices. Computational linguists may also be involved with speech pathology, search engines, data retrieval methods, or voice-to-text technology.
There are jobs for computational linguists with the usual tech giants like Google, Microsoft, Yahoo, Apple, as well as companies like Amazon, VoiceBox Technologies, Facebook, Intel and many more. In addition hundreds of startups, large and small, are scouting for computational linguists.
With a majority of India's technology startups trying to decode consumer behaviour, automate complex processes, analyse mountains of data, or make computers smarter, professionals with expertise in niche skills are much in demand.
So those interested in application and software development and looking ahead to a challenging and rewarding career in the field of artificial intelligence, with the ability to visualize complex processes and solve complex problems are ideally suited for a career in this exciting new field. Imagine helping a computer talk, translate languages, transcribe interviews, or help a vision-impaired child do her homework by reading the contents of a web page. Now that is really something — isn't it?
Institute Watch
International Institute of Information Technology at Hyderabad
University of Hyderabad
Indian Institute of Technology, Kharagpur
Indian Institute of Technology, Mumbai
Indian Institute of Technology, Delhi
Indian Institute of Technology, Guwahati
Indian Institute of Information Technology, Allahabad and Kerala
The English and Foreign Languages University, Hyderabad
Indian Institute of Science, Bangalore
Centre for Development of Advanced Computing, Pune
Jadavpur Unversity
Indian Statistical Institute, Kolkata
Jawaharlal Nehru University, New Delhi
Where to work
Linguist
Research Scientist
Speech Scientist
Computational Linguist
Voice Interaction Designer
Linguistic Engineer
Natural Language Processing Software / Research Engineer
Machine Learning Engineer
Linguistic Annotation Manager
Natural Language Processing Manager/ Scientist
Software Researcher
Language Modeling Researcher
Internships, part-time, full-time and contractual jobs for computational linguists are available with a variety of small, medium and large organisations that develop the following types of products and services:
Software (including embedded software)
Hardware
Search engines
Websites
Telecommunications equipment and devices
Operating systems
Computer applications
Databases and digital storage
Consulting
Academic research and teaching
Scope
As the role of computers and technology grows ever larger in our daily lives, business and industry are increasingly seeking experts in the complicated nexus between humans and machines. In a country like India which is expected to have 500 million internet users by 2020, where a lot of the growth is dependent on getting the non-English speaking and non-internet literate audience on to the Worldwide Web, it is necessary for people to communicate with machines in their own language.
Digital India initiative of the government will be a non-starter unless people can access digital content in as many Indian languages as possible.
Computational linguistics has already helped in building predictive keyboards in several difficult native languages like Sanskrit, Santhali and Sindhi, and is working to expand the digital horizons. This involves the application of tools like machine translation, information retrieval, speech enabled search and multilingual content creation - another huge challenge for computational linguistics.
Top News
The scheme to cost additional Rs 44,762 crore
There are about 50 lakh Central Government employees and ove...
Decision comes following two consecutive country-wide raids ...