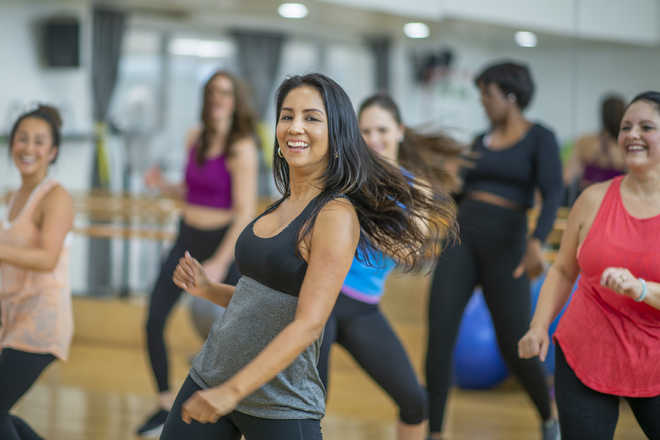 Mona
Four-minute Tabata or Pilates, yoga in its colourful makeover or stepping on to StairMaster, workouts of yore are no more the sole favourites of city folks.
While the walkers, joggers and runners will swarm the beautiful Sukhna Lake, changing times call for updating one's workout ritual. Technology has taken over too; sign up on an app, get biometric access and you are on the road to fitness!
"The focus today is not just on body-building, but fitness," says Charanjit Singh Chahal (Beast Chintu). That brings all age-groups to his fitness studio — on any given day, one can see teens rolling on mats perfecting their abs, professionals hitting the treadmill with vengeance or a giggly group of seniors women and men dancing to the tunes of Shakira. All within one swanky spread!
Box of toys
It's not only a gym now; it's a box full of toys - dumbbells, kettle bells, bars and plates. "Constantly varying functional movements," is how Bhupinder Singh of CrossFit Soorme, Mohali, simplifies the new trend. "Fitness is no more just the washboard abs (though there are still takers for it), but the larger group is going for endurance, stamina, strength, flexibility, power, speed, coordination, agility, balance and accuracy – all 10 parameters of being fit."
Bereft of machines, CrossFit Box uses their bodies as much as weights to help people get fit! "Gymnastics, and weight-lifting, CrossFit organises competitions, which make each participant more than eager," says this engineer-turned-fitness enthusiast.
Beats of Tabata
High-Intensity Interval Training (HIIT) is the reigning queen and CrossFit is not the only big player in this arena, there is Tabata too – a four-minute high intensity training technique. Tabata comprises eight rounds of ultra-high-intensity exercises in a specific 20-seconds-on, 10-seconds-off interval. Getting its name from Japanese scientist Dr Izumi Tabata, this whole body exercise is considered best for losing weight and gaining lean muscle.
Tabata is one popular programme at Cult, Sector 9, Panchkula, which also offers Prowl, popularised by Tiger Shroff – a combination of dance, combat forms and functional fitness moves by Hrithik Roshan, which focuses on improving the range of motion, full body strength and core activation.
Equipment to play
All these functional training methods have made the machines meaner. "Now all available machines – arc trainers, SPARC, stair-steppers and rowers - aim at each muscle in your body," says Chahal.
Body, mind & spirit
Then there is Pilates – a 20th century workout developed by Joseph Pilates from Germany around World War 1. "Toning and core-strengthening, Pilates makes for an excellent workout programme for beginners in any age-bracket, as the injury risk is minimal," says Dr Nimrat Batth from The Fit Life Studio.
When talking of fitness, how can one forget dance — right from bhangra to zumba! "Dance workouts help in two ways – one gets a fit body and learns moves for the next wedding!" laughs Chahal.
Bollywood stars like Akshay Kumar and Anil Kapoor have set real fitness goals for people, especially those in the middle-age group. "Cardio four days a week is what most of them can take time out for, coupled with yoga, stretching and weight training, which can help one stay young longer," says Abhishek Gagneja, founder, Ultimate Fitness Gym.
mona@tribunemail.com