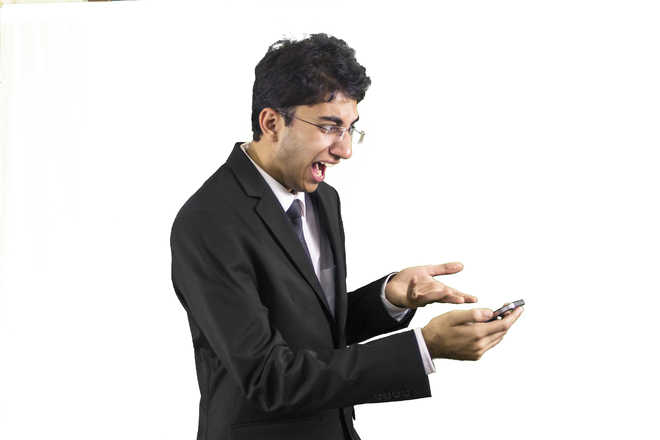 Jasmine Singh
On August 25, 2017 the mobile Internet and data services in Haryana and Punjab were suspended for 72-hours ahead of the Gurmeet Ram Rahim rape verdict. Blazing pictures of Panchkula are a witness to the mayhem that followed the verdict.
While the residents of Panchkula are trying to come out of the uneasy calm that prevails in the air, they are unable to share the gory incidents, pictures and video recordings of the D-day with the friends and family, sitting far from them.
Communication has come to a virtual standstill. "Internet shutdown has affected us a great deal," shares Panchkula-based filmmaker Ojaswwee Sharma. Business, communication has affected. Even SMS service has been stopped. I don't care if people use internet for snapchat or other entertainment activities on the go, but for people who have business, and work on mobility, it has affected them," says the filmmaker who has two films in the process of releasing at the film festivals. "I cannot share my footage, location shots, picture sharing for work, references."
However, Ojaswwee is also in favour of what the government or the officials, or what the central ministry decides in the best interests of the city and the state. "Even if it takes a day more, or two, I would still hold my nerves for the best interest of the surroundings. It's ok if I'll stretch by back for the extended time," he adds smilingly.
The services were suspended to avoid the spread of any rumours which could flare-up the whole situation; at the same time though, internet inaccessibility has affected lives. Pooja Prabhakar, a resident of Panchkula didn't have much complain about the internet services, "Wi-fi and broadband were working so this was good enough. The signal was flickering however. But, do you think, we could have done anything if the phone's data services were not interrupted? I don't think the magnanimity of the incident has anything to do with internet services being interrupted."
Since Internet has become such an integral part of our lives, and sharing information (texts, videos, and jokes) a part of our routine, no internet means communication to a halt. The services have been hit in Chandigarh as well, and it has not gone down well with most, especially the business fraternity. Poonam Pawar, from sector-36 complaints of her business having been affected due to this. "I have to send pictures of my new collection to my clients, many whatsapp me the details of the designs and measurements, which sadly has not been working for the last two days." Poonam does not contradict the decision taken by the authorities, "I am sure the services were cut-off looking at the law and order situation. The fact is that we've become so dependent on our phones that life without it is something many of us can't even imagine." Teachers, at various educational institutions in Panchkula have no way of communicating to the parents who are calling them day in and out to know whether the school is off or not. "Not only this, I had to book my train tickets for Chennai, something I would ideally do on my mobile phone. Since, we do not have internet, and my wife and kids are too scared to let me move out, I have no clue how will I attend my seminar in Chennai," Dr Deepinder Sahota from Panchkula is waiting for life to get back to normal. "I am not getting any messages, I am not getting any intimation messages from my head office in Chennai."
The Internet service has been restored in Chandigarh.