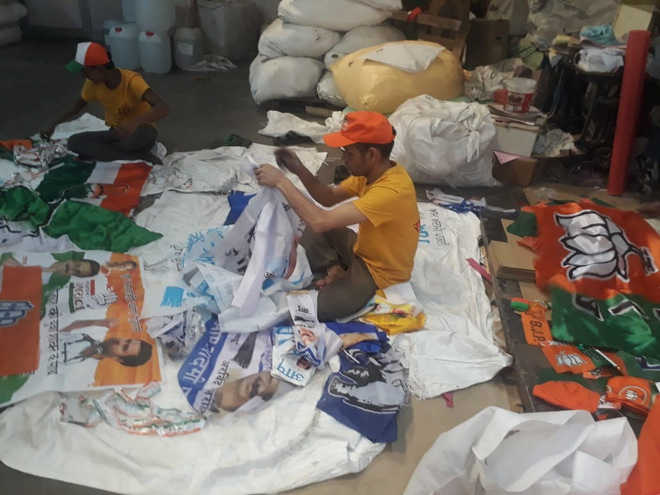 Shivani Bhakoo
Tribune News Service
Ludhiana, April 19
The election-time is at its peak in the country. In Punjab, the Lok Sabha elections are due on May 19. Political parties and leaders owing allegiance to different parties are leaving no stone unturned to woo voters to be in power.
In the present scenario, businessmen in the city are having a field day as their hands are full of orders for the election material. They have got orders in bulk to prepare material, including flags, hoardings, banners, caps, shirts and other stuff.
Industrialists dealing in printing and publishing are busy as their factory premises are abuzz with activity. Supporters and volunteers entrusted duties by various political parties are visiting factories to lift stocks of election material, which portray their favourite political leaders seeking votes in different moods.
Talking to The Tribune, Parveen Chaudhry, who deals in printing said, "This is a hectic time as we are preparing material for all political parties, including the SAD, BJP, Congress, AAP and others. Besides, we are also doing work for candidates. At present, we are executing orders from Rajasthan, Punjab, Haryana, Himachal Pradesh and other states."
"The election material includes flags, posters, badges, banners, hoardings, stickers, caps and other things. We alone are executing the entire work order for the SAD in Punjab," he added.
Another person dealing in printing in Sunder Nagar said, "Main industrialists are doing a lot of work, but when orders are many and time is less, they give work order to small time printers. We get our payment for doing the job. We are not directly associated with parties or candidates."
A supporter of a political party said, "With more hoardings and banners there is more impact on voters. If our candidate's hoardings and banners are not there on roads or streets, how would voters know who is contesting the election? At the same time, we have to keep in mind the expenditure. If we exceed the fixed amount, we will be fined by the Election Commission."
"Still, there are many leaders who are flouting the Election Commission guidelines," he added.
Top Stories