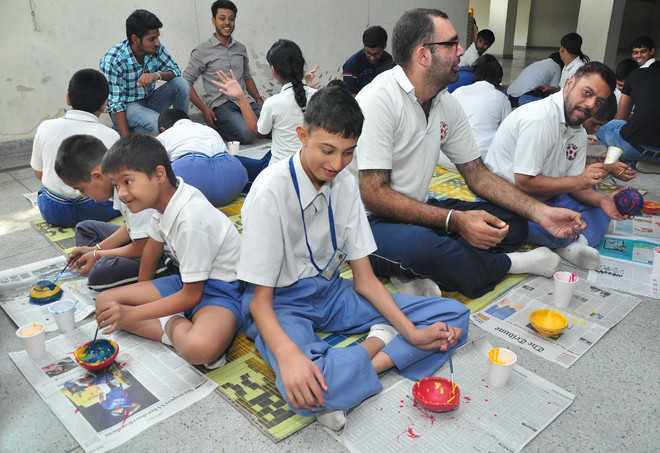 Manav Mander
Tribune News Service
Ludhiana, November 26
The parents of students with special needs are always worried about their kids' school as they are not very sure whether proper care of their kids will be taken in the school or not? They are concerned over the fact that whether the staff and teachers are trained enough to handle their kids.
Now, the anxiety of the parents is soon going to end as Central Board of Secondary Education (CBSE) has constituted a committee which will formulate policies and guidelines for children with special needs.
Teachers, staff and parents of the local city-based CBSE schools have a sigh of relief and are hoping that children with special needs will have a comfortable stay at the school.
Provisions will be made for better infrastructure, learning and teaching process will be specifically designed according to the needs of these special students.
"Kids with special needs need more attention and teachers specifically trained for the process will serve the purpose. Every time parents are conscious of the fact if their kid will be having a comfortable stay at his/her school. If teachers are specifically trained for the purpose then even parents will be tension free," said Sarabhjeet Kaur, a parent of a child with special needs.
She further added children with special needs should be given same opportunities as normal kids but sometimes sending them to a normal school is not possible as they fail to adjust and sometimes teachers are not able to adapt to their behavioural needs.
"Giving special training to the teachers will serve the purpose," she said.
Adding further, Navreet, who teaches at a local CBSE school said, giving training to the teachers will be a good option because a teacher cannot think of teaching these kids without prior training. "We need to understand their behaviour. Such training and workshops will serve the purpose and we are ready to take up the task since every kid needs to have all opportunities in life," she said.
Meanwhile, a principal of the CBSE school, who did not wished to be named said, sometimes parents of the children with special needs expect too much. "They expect a lot from the teachers. In my opinion workshops should also be held for parents as well. They will also understand how the things are work out at schools," she said.
Top Stories