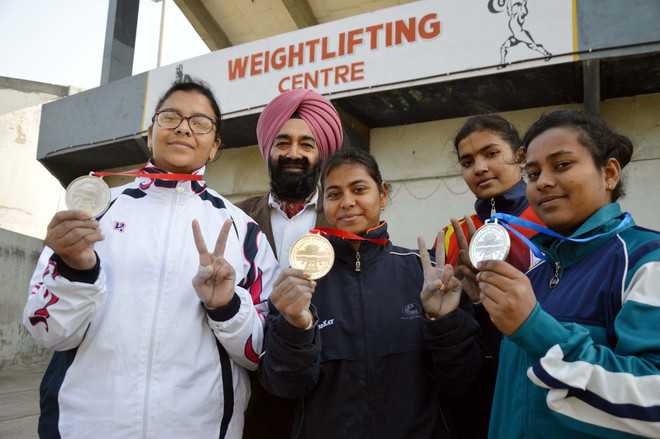 Anil Datt
Ludhiana, March 4
Trainees of the local Sports Authority of India Training Centre (STC) have cornered fame in the weightlifting and powerlifting competitions by securing medals during the last three years.
These girls, who are trainees of the senior coach and the STC in-charge, Harbans Singh, after carving a niche for them in weightlifting, have now proved their mettle in powerlifting discipline.
Suman, Sheena Maggo and Monika from Ludhiana and Laxmi of Doraha have given a consistent performance by bagging positions in district, state and inter-college championships.
Suman, a student of BA-III at Government Girls College, started taking part in competitions in 2016. She put her best feet ahead by winning three silver medals in the Ludhiana District Weightlifting Tournament, Panjab University Inter-College Championship, besides the Senior Punjab Weightlifting Championship in Chandigarh, respectively.
Laxmi, a student of BSc-I at Government Girls College joined the centre in 2015. She brought glory to the centre same year by bagging gold medal in the Ludhiana District Schools Weightlifting Competition, followed by another bronze in the Punjab Schools Championship. She secured silver medal in the PU Inter-College Weightlifting Tourney held at Chandigarh in November 2017. Laxmi repeated her performance in the Ludhiana District Weightlifting Competition by winning silver medal.
She improved upon her performance in the Punjab State Championship in Chandigarh during which she got the better of her opponents to secure a gold medal.
Another trainee of the centre, Sheena Maggo, student of BA-III at Government Girls College, got admission in the STC in August, 2016. She has got two gold medals in her kitty. Sheena bagged top honours in the Ludhiana District Weightlifting Championship and then in the Punjab State Weightlifting Competition, held in Chandigarh.
Similarly, Monika, a student of MA-I (political science) at Khasla College for Women took up the game in 2015. She has won six medals, including three gold, since then.
Monika won bronze medal in the PU Inter-College Weightlifting Championship in 2016; clinched silver medal the same year in the Ludhiana District Competition; took a big leap by winning gold medal in the inter-college tournament in January 2017; clinched silver medal in same championship held in November, 2017, besides adding two gold medals in the district and state weightlifting competitions, respectively.
Suman, Monika and Sheena represented their respective colleges at the Panjab University Inter-College Powerlifting Tournament held in Chandigarh last month. The trio won silver medals individually in the tournament.