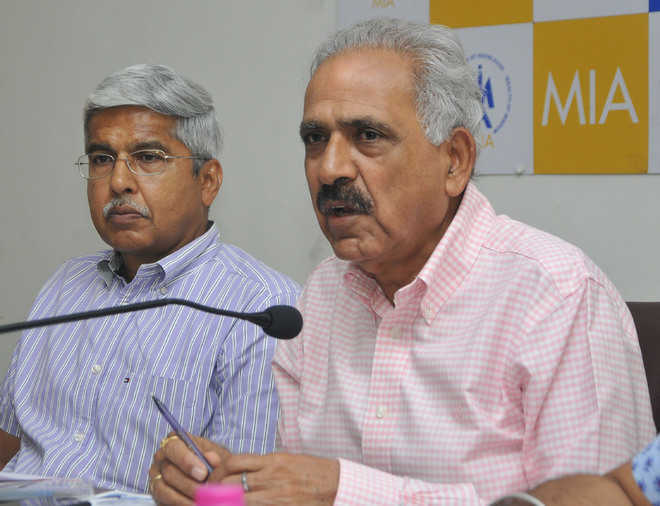 editorial@tribune.com
Tribune News Service
Mohali, July 20
Apparently upset with lethargic approach of the local administration in addressing civic issues in the Industrial Area, Mohali industrialists have proposed to the state government to allow them to create a special purpose vehicle (SPV) to resolve such issues effectively.
Yogesh Sagar, president, Mohali Industries Association, said they had submitted the required documents in this connection to the state government and its response seemed to be positive. He added that the local industrial area witnessed several civic issues, including poor condition of roads, waterlogging, ill-maintained parks, presence of illegal garbage dump in Phase VIII-B and sewerage and water supply-related problems.
"We (industrialists) pay around Rs 4 crore as property tax to the local Municipal Corporation and in return they (MC authorities) do not spend even 10 per cent of the amount in our area. The Mohali MC has spent just Rs 1.08 crore on civil works in the Industrial Area in three years while it collected Rs 12.05 crore as property tax during this period," said Sagar.
Rajeev Gupta, another local industrialist, said the condition of roads in the Industrial Area was pathetic. "You dread entering certain parts of the area during rainy season. Such areas submerge under one to two feet of rainwater even if it is a normal precipitation," said Gupta.
Similarly, drainage and sewerage systems were also pathetic, rued the industrialists. Sagar said after being allowed to create an SPV, they would not have to pay property tax to the MC but use the amount on redressal of civic problems on their own. "Such a system exists in Ludhiana," added Sagar.
Mohali MLA Balbir Singh Sidhu, who is also Punjab Health and Family Welfare Minister said, "I am encouraging them (industrialists) to complete all formalities in this regard as soon as possible. Our (the state government) doors are open to them. I am extending all my help to the local industry."