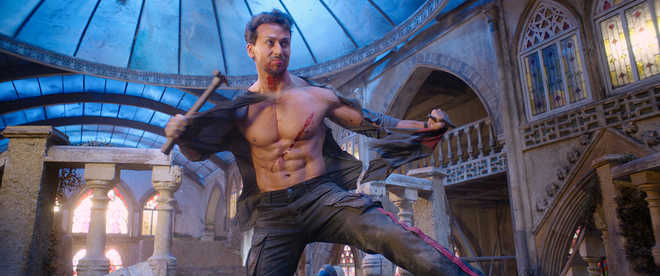 Nonika Singh
Exceptionally good looking heroes, fantabulous dancers, who are equally adept at action and a production house YRF that can pull out all the stops. But before you shout Eureka, let you be informed, War that comes riding high on rich production values, slick action and equally slick editing doesn't offer you anything new or of great value. Or, anything that you are not already familiar with, especially if you have been keeping tabs on Hollywood actioners.
A rogue agent, a zealously patriotic one and terror network operating from foreign lands…if that is not déjà vu enough, there are elements of face off too. In fact, each time Tiger Shroff as Khalid and Hrithik Roshan as Kabir face each other, you can hear the background score rising to salute their heroism. Larger-than-life they are and the director makes no bones about it as he takes them and us around the world. Italy, Morocco and the final swivel lands us in Australia. Who minds a vicarious ride? Bike chases, car races; the action, be it fist fights or stunts, the gravity defying and jaw-dropping kind you see in superhero films, is welcome too. The action department in the hands of ace action directors Paul Jennings (of The Dark Knight Rises), Franz Spilhaus, SeaYoung Oh and Parvez Shaikh is in overdrive and without a doubt superlative too.
Now, to fit into the breathless action there is a storyline too. Why has "Kabir, the head of the special team, turned over and now targeting his own people?" The enquiry by Tiger as Khalid is valid. Only, if it weren't so elementary. Clearly, you don't even have to rack your brains, let alone need the services of sleuths like Sherlock Holmes to deconstruct the mystery. Anyway, what you can't decode is easy too. For, help is at hand, everything is laid out crystal clear at the lowest common denominator. Sure enough, the film packs enough twists and turns. But the only ones you can't guess are not for your lack of intelligence or inability to smell a dead rat. Those particular twists are so ludicrous that in digital age when the web world is dishing out such intelligent thrillers, it is hard to imagine someone could still be thinking in such formulaic ways.
To be fair but for a couple of songs and dance sequences, some fluff has been cut out. There are no unnecessary romantic angles, even though Vaani Kapoor is very much an integral part. She looks hot, lovely and gets to utter some emotionally charged dialogues too. But her glamorous presence or her civilian asset angle both are fleeting diversions.
The stage here belongs to two men who look good, fight well, spar and cozy up at different points and intervals. Hrithik looks the part, handsome, rugged and suitably understated as well as suave. Tiger gives him run for money literally, for who can run better than him. Together with their tremendous screen presence they hold the plot for as long as they can. But as the bottom of the story goes for a toss, they can do little except fight a little more. Actually they lock horns, till the very end. If that is war…well it also threatens to roll over to next time. If that happens, let's hope it gets its plot coordinates right. Technically rather technologically, War ups the game. Next time, we hope it hits the intelligence quotient too. "No one can remain number one forever," goes one of its rare philosophical moments with a bit of emotional heft too. Sure dear, yow win some you lose some. But it would be a pity to see a production house of the stature of YRF go down the same path again and again.
nonikasingh@tribunemail.com