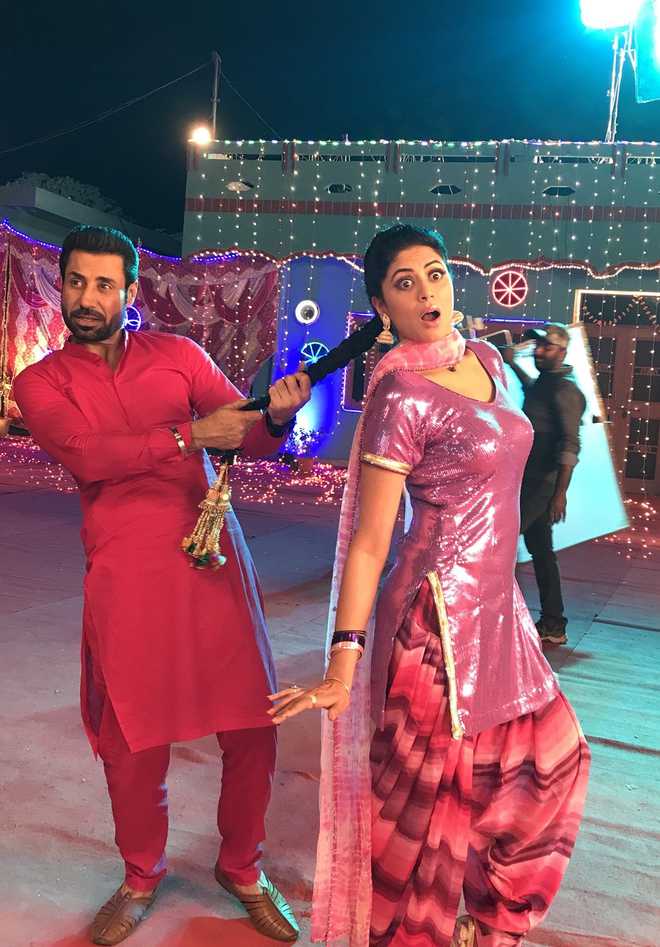 There is something with Punjabi comedy. It invariably manages to tickle the funny bone, sometimes for a brief duration and sometimes for the entire length of the film.
Director Smeep Kang's Vadhaiyan Ji Vadhaiyan does the same, one moment you laugh your guts out, and the next moment you giggle, and then you stop laughing completely. However, the hangover of the laughter is deep and long lasting that even when you are complaining about the length of the scene, you are doing so smilingly because you know the next punch will hit the target, yet again.
Director Smeep Kang knows how to involve his characters in a scene, irrespective of their number, hence there is coordination in his comedy as well.
Vadhaiyan Ji Vadhaiyan has an interesting plot, which is certainly not new or fresh. Smeep has, however, served it on a fresh plate.
The film has patches where you do nothing; you just stare at the screen. This time can be utilised in bringing your body back in a still state from the oscillating pendulum state (So, you get the punch!). The film also has some good music, though the songs have been thrown in without much thought.
Comedy is about timing and with seasoned artistes like Binnu Dhillon, Gurpreet Ghuggi, Karamjit Anmol, Jaswinder Bhalla, BN Sharma, Rupinder Rupi, Harby Sangha, it comes naturally. Binnu Dhillon plays a blind character for the second time, and each time he does it convincingly. Binnu, Gurpreet Ghuggi and Karamjit Anmol are impeccable with their punches, the trio knows how to stir up laughter even with a regular situation. Jaswinder Bhalla and BN Sharma can extract a grin even from the most grim-looking faces. Veteran artiste Rupinder Rupi can give anyone a run for their money. Kavita Kaushik doesn't have many dialogues in the film, though she is there in all songs. The director needs a reminder that Kavita is an actress who acts as well, and she can handle comedy like no one else!
Upasana Singh's special appearance is uncalled for and so is the climax. But the laughter is apt and in place, congrats on that!
jasmine@tribunemail.com