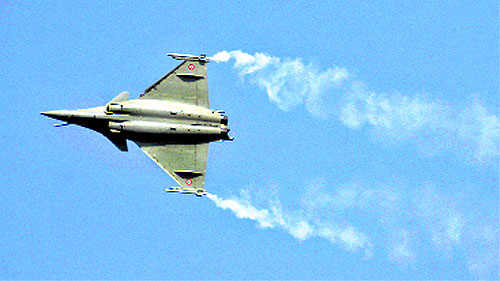 Ajay Banerjee
Tribune News Service
New Delhi, June 1
Defence Minister Manohar Parrikar's decision to buy only 36 Rafale fighter jets from France—instead of the initially proposed 126—has not found favour with the Indian Air Force, which feels the pared number would not be enough to meet its operational requirement.
The IAF brass has prepared a blueprint of its needs and plans to present it before the Defence Minister, who is expected to return to Delhi tomorrow.
Parrikar had, in an interview to a news agency yesterday, said buying 126 jets, as proposed by the previous UPA government, was "economically unviable".
The IAF, said sources, would project its requirement before the minister and state that a "mere" 36 jets would not meet the shortfall occurring due to the phasing out of MiG-21 and MiG-27 jets by 2022.
The force had projected an immediate requirement of 126 Rafale-type medium multi-role combat aircraft, though it would need 400 jets over the next 10 years.
As of now, the IAF has 34 fighter jet squadrons (having 16-18 planes each) against its projected requirement of 42 squadrons to tackle any simultaneous war with China and Pakistan.
A mixed ancestry and level of technology marks the 640-odd fighter jet fleet, largely imported from Russia over the past 30 years. British and French companies have supplied about 150 planes.
The IAF is likely to raise two demands before Parrikar: Replacing the around 260 obsolete MiG-21s and MiG-27s (Soviet Union-era single-engine fighter jets) and adding 145-150 jets to have a fleet that is 42-squadron strong.
In October last year, IAF Chief Air Marshall Arup Raha had said, "We are left with quite a few with a majority of our fleet being in a phase-out mode. The drawdown has to be tackled by quick induction of medium multi-role and light combat aircraft."
Speaking at the Aero-India Show in February, the Air Marshall had reiterated his demand saying: "We urgently need planes... may not necessarily be Rafales."
Former IAF Vice-Chief Air Marshall (retd) PK Barbora said, "One of the options to meet the shortfall is through a tie-up with another country to produce next lot of light-combat aircraft, Tejas, and not wait for Hindustan Aeronautics Limited or the Defence Research and Development Organisation to manufacture these."