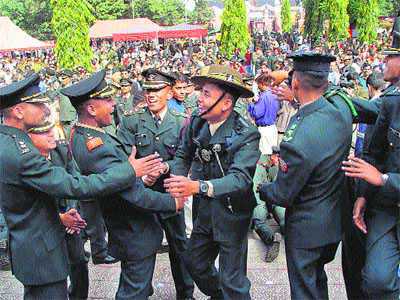 Ajay Banerjee
Tribune News Service
New Delhi, October 7
In a policy shift, the Indian Army has changed the recruitment pattern for its officers. This will positively impact career progression and lower the age profile of Colonel-above ranks.
The decision has three dimensions. The University Entry Scheme (UES) that allowed young graduates to gain entry directly has been suspended for now.
(Follow The Tribune on Facebook; and Twitter @thetribunechd)
The focus will be on Short Service Commission (SSC) officers for it is being proposed that the service be 'sweetened' with perks to attract more candidates. And last, the Technical Graduate Course (TGC) is being tapered off commensurate with the enhanced intake in the SSC (Technical).
Top sources said the move was aimed at meeting the recommendations of the Ajai Vikram Singh Committee (AVSC), envisaging a ratio of 1:1.1 between full-time regular officers and the support cadre, largely from the SSC.
The present ratio favours the regular cadre and the Army wants to reverse it to lower the age profile of combat forces. The Cabinet, acting on the AVSC report in October 2008, had approved the proposal to reduce the regular cadre.
The Army, till now, allowed SSC officers to serve for 14 years. After halting two types of entries, it has now proposed new norms for the SSC cadre. This will include allowing them to serve for 20 years, making them eligible for pension and ex-servicemen status. This means the officer will be out of the Army by the age of 40-42 with a pension and ample time for a second career.
Once the final policy on a better deal for SSC officers is cleared, it will alter the available 'selection pool' above the rank of Colonel, in the long run.
The Ministry of Defence had set up AVSC in 2001. The idea was to achieve "combat effectiveness" by bringing down the age profile of battalion/brigade level commanders. The report was implemented in two phases, in 2004 and 2008. The last part on having more SSC officers was pending since then.
The move will not affect the conduct of the Combined Defence Services examination through which recruitment is made to the IMA.
Top News
Attacker identified as ex-policeman dismissed last year, had...
Farmworker calls police to report the bodies of four of the ...
Jasdeep and Amandeep Singh came out with their hands zip-tie...
Jaishankar also talked about India's aspiration to become a ...
WHO has warned that Maiden cough syrup could be linked to th...