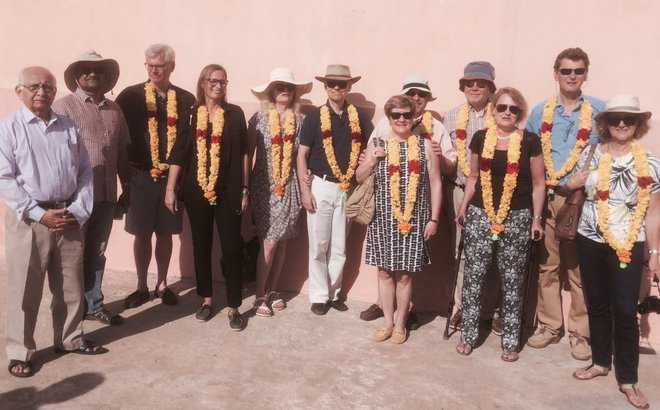 KV Prasad
EVER since President Donald Trump thumbed down the Paris Climate Change accord, there is a sense of uncertainty over its future and the fate of emission reduction targets set voluntarily by various countries. The pulling away of a big player that is one the largest contributor to emissions, adds to the concerns of world leaders as to what kind of planet earth will future generations inherit.
Amid the gloom, Iceland Ambassador to India Thorir Ibsen, a career diplomat who remains associated as a climate change negotiator since the 1992 Rio Earth Summit, is optimistic. His view is that the clock cannot be put back and sees a bright hope in activities of people, cities, local governments and civil societies that remain committed to tackle it.
(Follow The Tribune on Facebook; and Twitter @thetribunechd)
"The narrative has changed since Rio for people are disturbed about the effects of climate change... (other than the US) all other countries have re-emphasised commitment, private sector is committed strongly and even in the US, cities are going on voluntarily…" Ibsen told The Tribune, rejecting creeping negative thoughts and warnings of impending disaster by doomsday predictors.
Reminding that unlike the Kyoto Protocol, Paris is not legally binding; he says today the political divide between the pro-environment and the conservatives stands eroded. Civil society, local governments want to adhere to the goals set by the countries voluntarily, whereas before Kyoto the positive spirit was absent.
In India, Ambassador Ibsen awaits with interest the outcome of the India-European Union Free Trade Agreement discussion. Though not part of the EU, Nordic countries, including Iceland, lean on EU formats. In the absence of FTA, companies from Iceland are wary of investing in India.
Ambassador Ibsen and fellow Ambassadors from Nordic countries travel each year, with their spouses, to some part of India on holidays. Early this year, the group went to a fort, south of Puducherry, tracing its mention to an Icelandic writer Jon Olafsson who visited India in 1622. Olafsson's book "Indiafari" is widely read and its reprints sold online even now. Olafsson was a gunner on a Danish ship when he sailed to India and wrote about it for posterity.
Gala celebrations
Last week saw two celebrations in diplomatic circuit — US Charge d'Affaires MaryKay Loss Carlson hosting National Day party hours after returning from the US, post-Modi visit, she was full of verve asking guests to hit the dance floor to theme music. Carslon joined the celebrations with guests and US Marines band.
On Saturday, High Commissioner Nadir Patel and his colleagues hosted an event to celebrate 150 years of Canada with special performance by singer Cheri Maracle. Cheese dishes and wine were on the offer. In the end, guests dug into their pockets to check the gift coupon number for a complimentary Air Canada ticket.
Top News
Odisha government has issued helpline 06782-262286. The rail...
At least 50 people died and 350 were injured in a three-way ...
12837 Howrah-Puri Superfast Express, 12863 Howrah-Bengaluru ...
WFI chief demanded sexual favours in lieu of supplements and...
Said agitation will be intensified by holding panchayats acr...