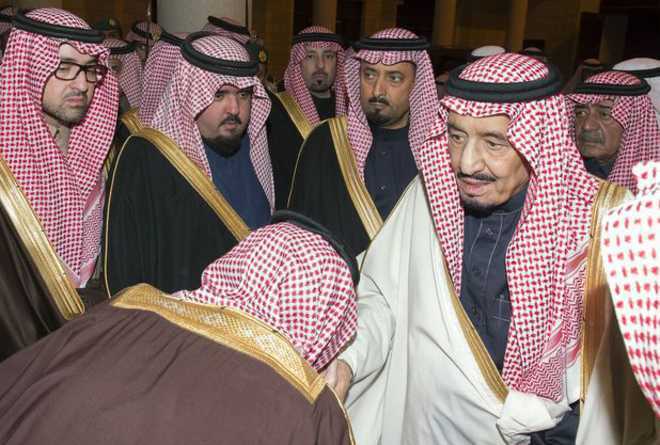 KV Prasad
Tribune News Service
New Delhi, March 12
Taking forward the growing engagement between India and Saudi Arabia, both countries are in talks for joint production in various fields, including petroleum, new technology and defence industry.
As India prepares itself for the visit of King Salman bin Abdulaziz Al-Saud later this year, Secretary (Economic Relations) Amar Sinha, at an event today, said India-Saudi Arabia relations were growing rapidly beyond the field of energy with both countries in talks to explore joint production. Prime Minister Narendra Modi visited the Kingdom last year in April and New Delhi is working out dates with Riyadh for the King's visit.
(Follow The Tribune on Facebook; and Twitter @thetribunechd)
"Saudi–Indian relationships can be furthered by more successful partnerships between companies which understand each other's cultures and society deeply," Secretary Sinha said gracing a function by SABIC, a Saudi-based global leader in diversified chemicals, that is undertaking social work in India.
On his part, Saudi Ambassador Saud bin Mohammed Al-Sati touched upon the strategic partnership between the two countries in areas of research, including with the Council of Scientific and Industrial Research in Chemicals and Plastics.
He said with Saudi Arabia embarking upon an economic restructuring programme under its "Vision 2030" diversifying the country's dependence on oil to sustain the economy, the country sees India as a major partner in the Make in India initiative.
As India and Saudi Arabia depend on imports to cater to is growing defence needs, both countries see a great potential in joint production in the defence industry. Saudi Arabia is India's fourth largest trade partner and the country imports around 19 per cent of its crude oil requirement from Saudi. During 2015-16, the value of bilateral trade stood at $ 26.71 billion, a 32 per cent fall from $32.97 billion the previous year due to lower prices of petroleum.
Saudi Arabia is the eighth largest market in the world for Indian exports and is destination to more than 2.4 per cent of India's global exports while Saudi Arabia is the source of 5.34 per cent of India's global imports.
As part of its corporate social responsibility, SABIC recently achieved a milestone of scanning 1 lakh government schoolchildren in Delhi and Gurgaon providing eye care, including spectacles, besides undertaking other works in Bengaluru, Vadodora and Mumbai, SABIC vice-president Janardhana Ramanujalu said.