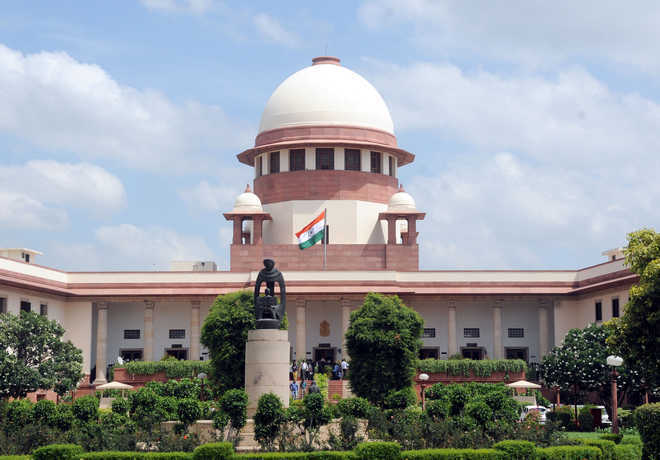 Tribune News Service
New Delhi, October 23
Rejecting demands for recusal of Justice Arun Mishra, the Supreme Court on Wednesday said he will there on the Constitution Bench hearing petitions challenging certain provisions of the Land Acquisition Act, 2013.
"I am not recusing from hearing this matter," said Justice Mishra while pronouncing a verdict of a five-judge Constitution Bench on the issue of his resucal.
Headed by Justice Mishra, the Bench also included Justice Indira Banerjee, Justice Vineet Saran, Justice MR Shah and Justice S Ravindra Bhat.
Justice Mishra said the Act was meant to take care of interests of farmers and land owners and not developers and fixed November 6 to hear arguments on merits.
Various farmers associations and private individuals had demanded his recusal on the ground that he was part of a verdict pronounced last year in which he has already expressed his mind.
Justice Mishra was part of a Bench that in February 2018 held that land acquisition by government can't be quashed for delay on the part of land owners in accepting compensation within five years on account of litigation. A 2014 verdict had earlier held that land acquisition can be quashed on account of delay in accepting the compensation. The issue was referred to a larger Bench on March 6 in view of conflicting verdicts by two Benches.
"You want a Bench of your choice, your formulations, those who may favour you. This will destroy the independence of judiciary. This is bench hunting, nothing less. This is taming the judiciary," Justice Mishra had said.
A visibly upset Justice Mishra had on October 16 taken strong exception to demands for his recusal after senior counsel Shyam Divan said he should not be part of a five-judge Constitution Bench headed by him hearing petitions relating to certain issues under the Land Acquisition Act, 2013.
"I will be the first person to sacrifice if the integrity of institution is at stake."I am not biased and don't get influenced by anything on earth. If I am satisfied that I am biased then only I will recuse myself from hearing this case," Justice Mishra had said.
Divan—who is representing certain farmers—had objected to Justice Mishra being part of the Bench, saying judicial propriety demanded that he should not be part of the Constitution Bench as it was looking into the correctness of a verdict delivered by him. A judge cannot sit in appeal of his own judgment, he had said.
"It is not an appeal against the verdict in which I was the party…I may change or correct my view, if persuaded," Justice Mishra had said, adding the Constitution Bench was sitting to interpret provision of law and not to see the correctness of earlier verdicts.