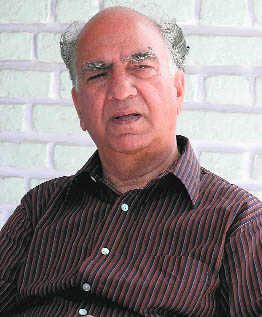 Aditi Tandon
Tribune News Service
New Delhi, December 21
In a rare show of political consensus, two top leaders from the ruling BJP and the Opposition Congress came together today to demand an urgent review of the parliamentary system of democracy as currently practised by India and replace it with a presidential form of government.
BJP veteran Shanta Kumar and Congress MP Shashi Tharoor both cited severe flaws in the parliamentary system, including the executive's preoccupation with staying in power, to argue that the presidential form would suit India best as it would guarantee stability of tenure and hence, an atmosphere for governance.
They were speaking at the launch of HarperCollins publication, "Why India Needs the Presidential System" by Bhanu Dhamija, at the India International Centre.
Shanta Kumar called for establishment of a national commission to review the present form of governance and propose contours of the presidential form, saying, "If we don't change the parliamentary system of government today, we will fall into an abyss. The current system has bred black money, corruption, vote-bank politics and ruling class' complete inability to take decisions that suit the country."
Tharoor also openly said that the parliamentary system as practised in India for the past 70 years has demonstrated severe flaws and it's therefore time to look at the alternative.
"Nationalistic leaders like Nehru and Ambedkar took a decision to pursue the parliamentary system in their own wisdom, but we need to see how the system has worked in practice. Flaws have become more apparent in 25 years of coalition politics. The principal flaw is that the executive is dependent on the legislative majority to stay stable. This means the executive ends up spending more time on how to stay in power than on how to govern. The presidential form, on the other hand, guarantees the executive a period of time to demonstrate what it can accomplish," Tharoor said, admitting that the leaders who chose a parliamentary system post-Independence represented a generation that venerated British institutions.
The Congress and BJP leaders both firmly dismissed apprehensions that the presidential form of government could translate into a dictatorship, saying checks and balances can always be ensured.
"A directly-elected President can always be balanced with directly-elected chief executives in states, mayors in cities and panchayat representatives down below," Tharoor argued in defence of the presidential form, saying it's wrong to compare the Indian parliamentary system with the British Westminster model.
Top News
Both Houses adjourned for the day amid uproar over Adani iss...
Adani Group company stocks have lost over US$ 90 billion in ...
Total losses in stocks of 7 listed Adani group companies hit...
DGP said Arif was being handled by a Pak-based LeT terrorist...
Idol of Lord Ram's 'baalroop' carved out of these stones wil...