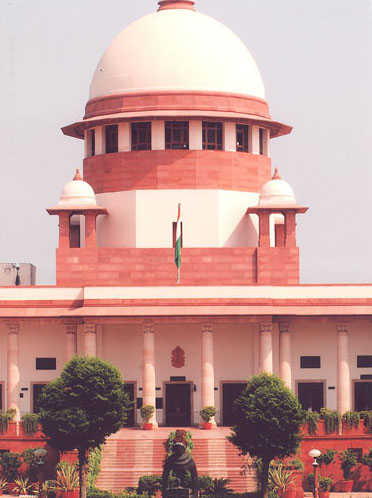 Satya Prakash
Tribune News Service
New Delhi, May 11
The Supreme Court on Friday appointed area Sub-Divisional Magistrates (SDMs) as nodal officers to ensure basic amenities such as water, sanitation, healthcare and education to Rohingya immigrants living in Mewat (Haryana) and Kalindi Kunj (Delhi).
A Bench headed by Chief Justice of India Dipak Misra ordered appointment of SDMs as nodal officers after the Centre presented a status report on three Rohingya camps. Parents, guardians or relatives of Rohingya immigrants not getting basic facilities could approach the SDM concerned, the Bench said.
Additional Solicitor General Tushar Mehta told the Bench that Rohingyas were being provided the same facilities as extended to Indian citizens living in neighboring slums in Mewat district and Kalindi Kunj in south Delhi. He said the issue was unnecessarily being hyped and no activist be allowed to take up their cause. If they had any problem, let their parents, guardians or relatives approach the SDM concerned, the ASG said.
"There was a need to lift the veil from the activists and they should not be allowed to put forth the grievances of Rohingyas with the nodal officers," Mehta said.
The Supreme Court – which had on April 9 sought a comprehensive report from the Centre on the status of basic amenities provided in three camps in Delhi and Haryana where Rohingya refugees were living – said it would hear legal arguments on the issue in August.
Alleging that basic amenities such as toilets and drinking water were not provided to them, the Rohingya refugees had complained to the court that children and the elderly in these camps were suffering from diarrhoea.
The top court had on March 19 declined to direct the government to ensure health and educational facilities to Rohingya refugees living in India after the Centre asserted that nobody had been denied such facilities on the basis of one's nationality.
On behalf of two Rohingya petitioners—Mohammad Salimullah and Mohammad Shaqir—advocate Prashant Bhushan said basic facilites like education, healthcare and foodgrain were being denied to the Rohingyas as they did not possess IDs such Aadhaar and ration cards. Rohingyas may be provided with refugee IDs to avail the basic facilities as human beings, he submitted.
It was vehemently opposed by Mehta who said Rohingyas were being treated as human beings and their status as illegal immigrants did not change.
Senior advocates Rajeev Dhavan and Ashwini Kumar contended Rohingyas were deprived of fundamentals right to life which was even available to non-citizens.
The law officer took a dig at Congress leader and senior advocate Ashwini Kumar, saying all the submissions were very enriching but the point was nothing was done two-three years ago.
"I have made a legal submission. I can raise my voice also and answer this legally and politically," Kumar responded.
Top Stories