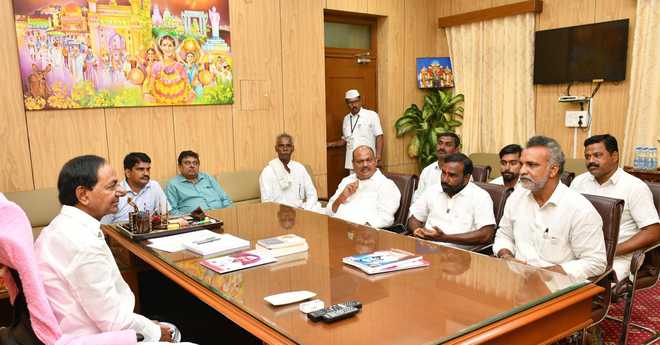 Naveen S Garewal
Tribune News Service
Hyderabad, September 17
Villagers of five assembly segments of Maharashtra's Nanded district have a stern warning for the state government—either it should implement welfare schemes like the ones Telangana offers, or else they would demand merger of their villages with the southern state.
A delegation of leaders from Nalgaon, Bhokar, Degloor, Kinwat and Hathgaon assembly segments met Telangana's Chief Minister K Chandrashekhar Rao on Tuesday. Villages in these assembly segments share borders with Telangana, and have a significant Telugu-speaking population.
The delegation included elected representatives from various political parties, and their aim was to enlist KCR's support in Maharashtra's upcoming elections.
Babu Rao Ganapath Rao Kadam, the sarpanch of Babli village who leading a movement to merge Telugu-speaking villages of Maharashtra with Telangana, was part of the delegation.
"Our villages are bordering the Telangana State villages. But the situation in our villages, when compared to those in Telangana state, is very different. People and farmers in Telangana's villages that border ours are very happy while we are in distress. For farmers in Telangana, each one is getting financial assistance of Rs 10,000 per acre per year under the Rythu Bandhu Scheme. Our government is not implementing schemes such schemes. The poor in Telangana get Rs 2,016 a month as pension whereas in Maharashtra they are getting a meagre Rs 600," said one member of the delegation.
Additionally, they claim Telangana gets uninterrupted power supply, but Mahrashtra, an electricity deficit state, has frequent power cuts.
"In Telangana, schemes like Kalyan Laxmi, KCR Kits, and clothes distribution during the festivals are helping the women folk immensely. Maharashtra has no such schemes," the delegation said.
Assembly elections are due in Maharashtra any time now.