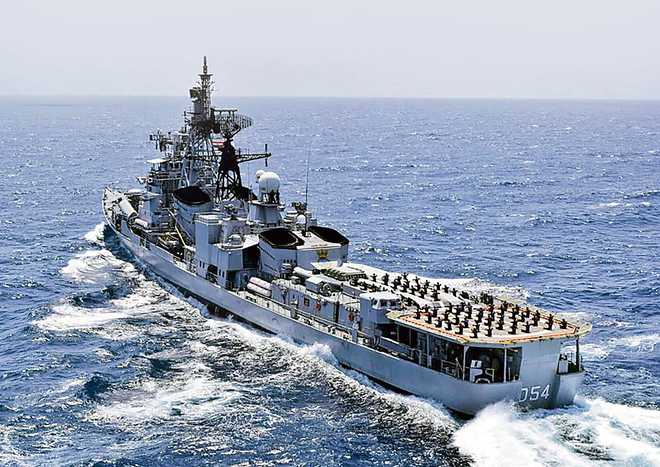 Ajay Banerjee
Tribune News Service
New Delhi, August 12
With China building warships at a rapid pace, India is banking on upcoming construction technology to keep pace with the dragon nation. The ongoing project, 17-A, which is using modular construction, is what the Navy thinks will be its future and set the pace for making new warships.
The Navy is hopeful that the building time will be brought down from the present seven-eight years to three-four years for each warship. The first one is expected to be inducted in three years. All the seven warships of this project are expected by 2026 or 2027. The construction on the first one started in February 2017 and it should be ready for trials in 2021. The cost of each warship is around Rs 6,300 crore.
The modular construction will lay the path for future ship building, said a senior functionary. This is the first time India is trying this concept, which is common in Europe, Korea, Japan and the US. It involves building a multi-thousand-tonne warship in small modules, which are brought together and assembled at one place.
This means faster building times as modules can be made at different places. And these modules can be made for all the seven ships at one go. So far, ships were built by progressively building the structure.
Three of the warships are being made at the Garden Reach Ship Builders (GRSE) Kolkata and another four at Mazagon Dock Limited (MDL), Mumbai. Both the ship builders have created modular construction facilities.
The warships will incorporate the latest stealth features and carry a compact weapon platform that will include Barak 8 and BrahMos missiles, which will be vertically launched.
The manpower usage will also come down. Existing such warships have a crew of 250 whereas advanced automation will bring it down to 160, which will reduce operational costs by around 20 per cent and result in higher operational availability of the warships. The Project 17A-class frigate is follow-on of the Project 17 Shivalik-class frigate for the Navy.
7 warships India expects to build by 2026 or 2027
2021 by when trials on first warship likely to start
Rs 6,300 cr estimated cost of each warship
How the concept works
Project 17-A, the Navy's warship-building venture, is using latest modular construction technique
A multi-thousand-tonne warship is built in parts at different plants and then assembled at one place
A warship's building time is expected to be brought down from present seven-eight years to three-four years
Top News
Navy Day: Looking to procure long-range drones, says Admiral
Discuss Russia-Ukraine war, highlight emerging security chal...
Ph-2 Asks voters to turn out in large numbers
Centre sealed | 10 staffers detained | Owner absconds