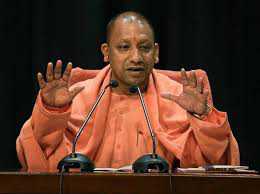 vinaymishra188@gmail.com
Tribune News Service
Lucknow, August 20
The 29-month-old Yogi Adityanath government is set for its first reshuffle on Wednesday. Invitations issued by newly appointed Governor Anandiben Patel for the much speculated reshuffle have finally been sent out.
Ahead of the much-awaited reshuffle, six ministers have been asked to resign to make way for new entrants in the ministry. The first to put in his papers was 75-year-old Finance Minister Rajesh Agarwal. A senior RSS member, Agarwal has represented the Bareilly Cantonment constituency for 25 years.
He has also been a minister in the Kalyan Singh government. He had submitted his resignation to CM Yogi two days ago citing ill health and advancing years. He had pointed out that as per the BJP norm leaders above 75 years are expected to resign and contribute towards strengthening the party organisation.
Newly appointed state BJP president Swatantra Dev Singh, who was the Transport Minister in the Yogi government, resigned last evening.
Other ministers who have reportedly quit are cricketer-turned-politician Chetan Chauhan, Anupama Jaiswal, Mukut Bihari Verma and Swati Singh. Sources said these ministers have been eased out at the instructions of the BJP top brass owing to their poor and average performance.
Those out
The first to put in his papers was 75-year-old Finance Minister Rajesh Agarwal
State BJP chief Swatantra Dev Singh, who was the Transport Minister in the Yogi government, resigned on Monday
Other ministers who have reportedly quit are Chetan Chauhan, Anupama Jaiswal, Mukut Bihari Verma & Swati Singh