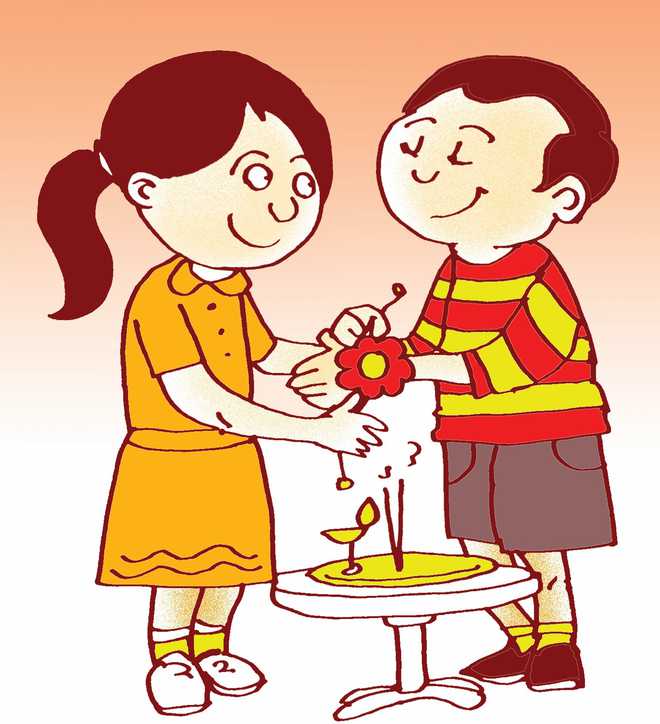 editorial@tribune.com
Sai R Vaidyanathan
Today is Raksha Bandhan, a festival that celebrates the bond between brothers and sisters. Here are some examples of it from great persons' lives.
Helping one's sister
Once, Balaram promised his sister Subhadra's hand to Duryodhana even while Subhadra, father Vasudev and brother Lord Krishna opposed it.
Luckily for Krishna, Pandava prince Arjuna, who was on a 12-year exile as a mendicant, happened to arrive at Dwaraka. Having met Krishna and Subhadra there, he began staying on the outskirts of the capital. Krishna played matchmaker and convinced Arjuna and Subhadra about their alliance.
But mighty brother Balaram stood like an insurmountable block. So Krishna planned a way out. One day, Subhadra came out of the fort — steering a chariot — to go to the Raivataka mountain to worship some deities there.
Arjuna, who was waiting in the bushes, ran and climbed on to the chariot. Startled, Subhadra's attendants gave a chase but were warded off by Arjuna's arrows.
Meanwhile, the alarm had been sounded. Balaram, in anger, started gathering his men. But Krishna kept sitting coolly in his seat. "Why are you silent, Krishna?" Balaram said.
Krishna said, "O brother, I feel we are acting in haste. It is not the mendicant who abducted our sister, but the other way round. The reins were in Subhadra's hands all the while. And the mendicant is none other than Arjuna who can only be conquered by Lord Shiva. So don't incur disgrace by chasing them, fighting him and losing. The wiser option would be to convey to them our acceptance of their match, bring them back and wed them in our presence."
With no other choice left, the Yadavas did so.
Sisterly tie keeps him alive
According to the Mahabharat, in the 12th year of the Pandavas' exile, Duryodhana's brother-in-law Jayadrath abducted Draupadi on finding her alone in the Pandavas' abode.
On returning from their hunt, the Pandavas gave a chase. Scared, Jayadrath freed Draupadi and sped away.
Once Draupadi was safe, Bheema and Arjuna again wanted to go after the miscreant. But Yudhisthira said, "Don't kill Jayadrath as he is the husband of Dushala, the only sister of the Kauravas and ours."
So when Bheema and Arjuna caught hold of Jayadrath, they only shaved off his hair and moustache to humiliate him.
Illustrious brother
One day, Mukta, sister of 13th-century saint Jnaneshwar, went to buy an earthenware pan as one of her brothers wanted to eat sweet pancakes.
At the potter's shop, she paid the money and took the pan, but Visoba, a critic of Jnaneshwar, was standing there. He not only snatched the pan from Mukta but also smashed it to pieces. Then, he warned the potter not to sell anything to Mukta and her brothers.
Crying, Mukta headed home. Visoba followed her to see what she would do.
At home, Jnaneshwar asked Mukta what had transpired. Then, he coolly said, "Why don't you fry pancakes on my back?" He knelt down and Mukta put a pancake on his back. Soon, it began sizzling.
At that time, Visoba, who was watching from outside, realised that Jnaneshwar was a great soul.
The author can be contacted at author.sai@gmail.com
All readers are invited to post comments responsibly. Any messages with foul language or inciting hatred will be deleted. Comments with all capital letters will also be deleted. Readers are encouraged to flag the comments they feel are inappropriate. The views expressed in the Comments section are of the individuals writing the post. The Tribune does not endorse or support the views in these posts in any manner.