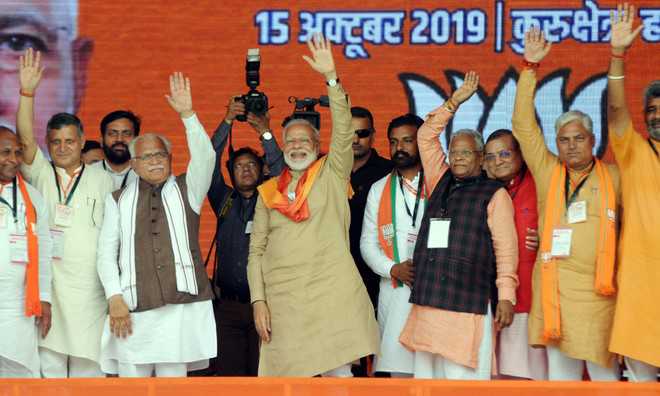 editorial@tribune.com
Nitish Sharma
Tribune News Service
Kurukshetra, October 15
Prime Minister Narendra Modi on Tuesday said the entire country was preparing to celebrate the 550th birth anniversary of Guru Nanak. He said he was happy that the Kartarpur corridor project was about to be completed soon.
Addressing a rally in Thanesar, he said, "We are fortunate to get a chance to rectify to some extent the political and strategic failures that happened seven decades back."
"India received its first Rafale jet on Dasehra and it was a proud moment for all of us. I do not know what happens to Congress leaders whenever the country is happy. This is not limited to Rafale. Whenever the country is honoured at the world level, the attitude of Congress men is always negative," he said.
Referring to statements of Congress leaders regarding abrogation of Article 370, he said, "Pakistan is using the statements of Congress leaders to target India. Elections come and go, but national security remains top priority. How long will the country continue to see terrorism in Jammu and Kashmir and mothers continue to lose brave sons?"
Continuing the attack, he said, "I want to ask Congress men to evoke their humanity. When a mother in Kashmir requests her son to give up terrorism and come back and offers prayers to get her son back, I want to ask Congress men whether that mother should get her son back. The trend of separatists must end and the backward and Dalits must get their rights."
"We will continue to take decisions for the welfare of people of this country. Not only policy making, governments must pay more focus on the last mile delivery as well. Beneficiaries must get the benefits of policies," he said.
He praised the Haryana Government for giving jobs on merit and bringing in transparency in jobs. He said road and rail connectivity had strengthened. He said Manohar Lal Khattar government had ended the transfer industry.
He claimed that the transfer industry had a rate card and corrupt ministers and officials used to mint money. He said before 2014, the government used to have its eyes on votes and land of farmers. He pointed out that old policies related to purchase of land had been changed.
"Efforts are being made to promote Kurukshetra as a major tourist destination. We want Kurukshetra to be on the list of top 15 tourist destinations in the country," he said. He called upon voters to come out in large numbers, exercise their franchise and give a bigger mandate to the BJP.