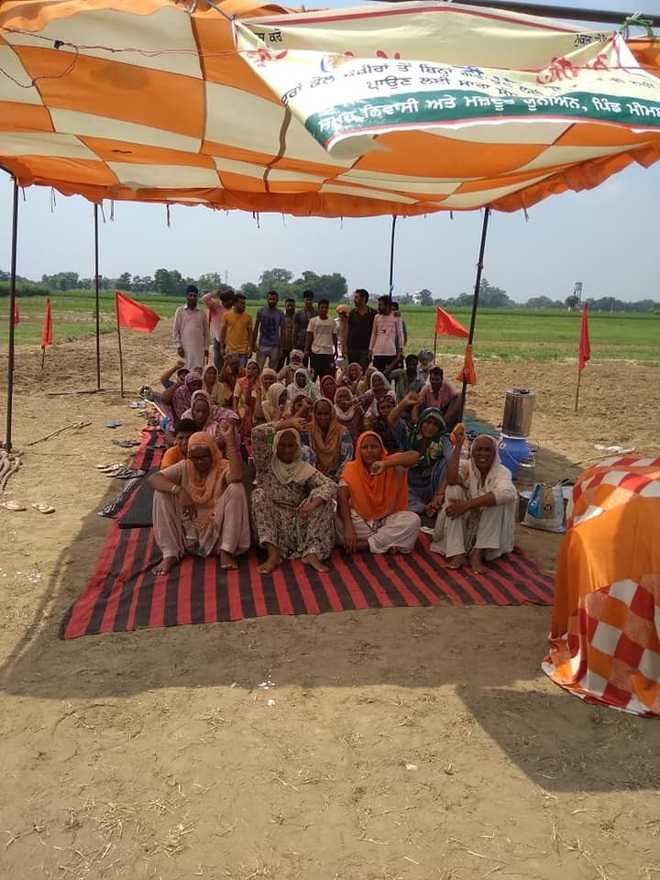 ibune News Service
Sangrur, October 13
The controversy over the auction of shamlat land in several villages to "dummy" candidates refuses to die down as Dalit organisations are in no mood to relent.
Members of the Zameen Prapti Sangharsh Committee (ZPSC) and Krantikari Pendu Mazdoor Union (KPMU), who have been demanding 33% reserved land for Dalits for 33 years on annual lease, have announced to continue with their protest till the cancellation of auctions to "dummy" bidders.
Mukesh Malaud, president of the ZPSC, said, "The police and civil officials are playing into the hands of influential landlords, who have taken possession of reserved pieces of land through their servants in many villages." In the past, clashes have been witnessed in many villages, including Jhaloor, Balad Kalan and Tolewal, over the same issue. Dalits say the authorities concerned haven't learnt any lesson.
"Landlords, in connivance with higher-ups, have got cancelled auctions in many villages repeatedly when their dummy bidders failed to get land as Dalits opposed them," Malaud said.
On July 1 this year, around 15 persons suffered injuries during a clash between two groups in Tolewal village over the auction of reserved land. A Dalit woman, Gurdev Kaur, died in November 2016 during a clash in Jhaloor over possession of a piece of reserved land.
Ghanshyam Thori, DC, said the matter had been sorted out in most of the villages. "If anyone is still facing problems, he can contact our senior officials," he said.
Top Stories