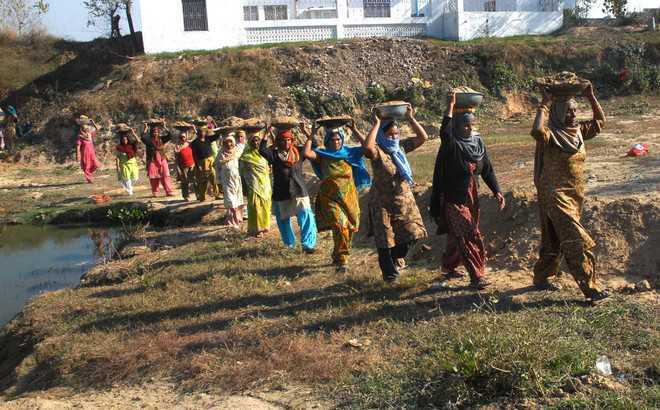 Vishav Bharti
Tribune News Service
Chandigarh, December 3
The debt-linked suicide rate of agricultural labourers is higher than that of farmers, yet they don't find a place in the state government's debt relief scheme.
As per a door-to-door survey report, presented by Punjab Agricultural University (PAU) before a Vidhan Sabha committee recently, agricultural labourers (6,373) accounted for 44% of the 14,667 rural suicides between 2000 and 2015 in six districts (Sangrur, Bathinda, Mansa, Barnala, Ludhiana and Moga).
According to the latest data, there are 20 lakh farmers and 15 lakh agricultural labourers in Punjab. The latter are landless. Going by the comparative population, the suicide rate is higher in case of farm labourers. As per a report prepared by Punjabi University — as part of the same project — such labourers accounted for 53.87 per cent of the suicides in seven other districts (Faridkot, Fatehgarh Sahib, Hoshiarpur, Patiala, Rupnagar, SAS Nagar and Muktsar).
"Our report says that the number of suicides per one-lakh population is equal for farmers and agricultural labourers, but after including the findings of the study conducted by Punjabi University for seven districts, we have reached the conclusion that farm labourers are committing suicide in greater numbers," said PAU's Prof Sukhpal Singh, who supervised the study.
The study concludes that 77% per cent of the agricultural labourers committed suicide due to indebtedness. "We found that declining farm employment, high social sector expenses (including healthcare and education) and hefty rate of interest are taking their toll on the labourers," said Prof Sukhpal.
The agricultural labourers' unions are considered weaker and less influential compared to the farmers' unions. "During its 10-year rule, the SAD-BJP government behaved as if it was protecting the interests of landlords. We were called for various meetings on rural crisis, but our problems were hardly heard. It seems nothing has changed after the Congress coming to power," said Lachhman Sewewala, general secretary of PKMU.
Earlier, the state government had decided to waive the farmers' debt, but refused to give debt relief to agricultural labourers, citing lack of data on the latter's indebtedness. Subsequently, the Punjab Khet Mazdoor Union (PKMU) conducted a survey on indebtedness of such labourers and found that 85% were indebted. On an average, each farm labourer's family in the state is under a debt of Rs 91,000.
The state government had commissioned a survey on suicides by farmers and agricultural labourers to Punjabi University, Guru Nanak Dev University and PAU.
---
Remedial measures
The PAU report has suggested steps to curb suicides by agricultural labourers
Compensation to families of suicide victims
Debt waiver for farm labourers
Develop rural non-farm sector for generating employment
Introduce labour pension scheme
Reservation of seats in professional courses for victims' children
Free education and healthcare facilities
200 days' work under Mahatma Gandhi National Rural Employment Guarantee Scheme
Top News
In Delhi, Congress puts up a stage outside Mahatma Gandhi's ...
Congress observing day-long 'Sankalp Satyagraha' at Delhi's ...
Says Rahul Gandhi's disqualification culmination of lawful p...
Indian Ambassador to the US Taranjit Singh Sandhu was not in...
Seeks explanation for 'security breach'