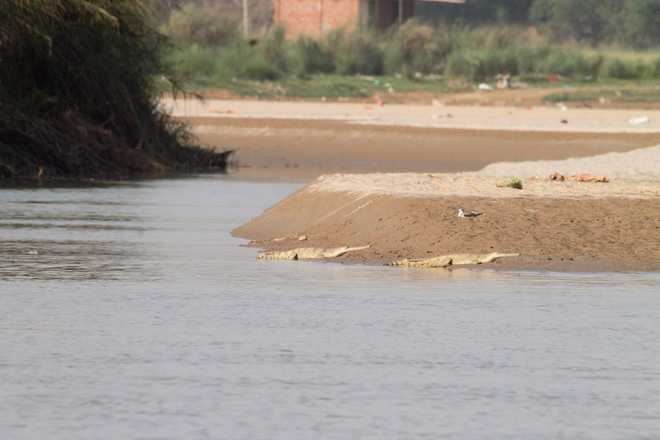 Aman Sood
Tribune News Service
Patiala, March 30
Aquatic life in the Beas water reserve is under a serious threat due to extreme shortage of water.
The level started plunging in the reserve after the recent decision of the Bhakra Beas Management Board (BBMB) to "limit the release of water". The move, which has endangered the aquatic life, could also pose a threat to the Harike wetland.
The Wildlife Department is now trying its best to make the BBMB release at least minimum supply of water needed to sustain aquatic life as the water level has fallen by about four feet in the past four days.
Sources said the water level had been controlled to allow the Rajasthan Irrigation Department to complete some repairs. However, the BBMB denied it.
"While cutting water supply to the Beas, the BBMB did not bother about the aquatic life. A recent visit to the riverside shows that gharials are moving upstream to deal with water scarcity and for food," the sources said.
Principal Chief Conservator of Forests (Wildlife), Punjab, Kuldip Kumar told The Tribune that the situation was alarming as island-like dunes had surfaced in the Beas. "We have deputed our staff to meet any exigency. I have taken up the matter with the BBMB, which assured us that water would be released. However, nothing has been done till now," he said.
A majority of border farmers are also dependent on the river for irrigation. "A regular check is needed to monitor the water supply, timing and quality to sustain the river's ecosystem and livelihood of people dependent on it", said Jaskaran Sandhu, a former Punjab irrigation engineer and a wildlife photographer. "The Beas area is less polluted than the Sutlej. Hundreds of bird varieties are also dependent on it," said Sandhu, who is member, Punjab Wildlife Board.
Denying that the water flow had been reduced for repairs in Rajasthan, BBMB Chairman DK Sharma said it had been done due to low water level in the dam. "We are more worried about water for humans during the peak summer and cannot do much about the aquatic life in Beas," he said, adding that they would release water soon.
To meet the situation, the Irrigation Department is also contemplating diverting supply into the Beas from the Upper Bari Doab Canal. "We have made some arrangements and the problem would be sorted out. There is no need for us to talk to the BBMB," said Jaspal Singh, Principal Secretary, Irrigation.