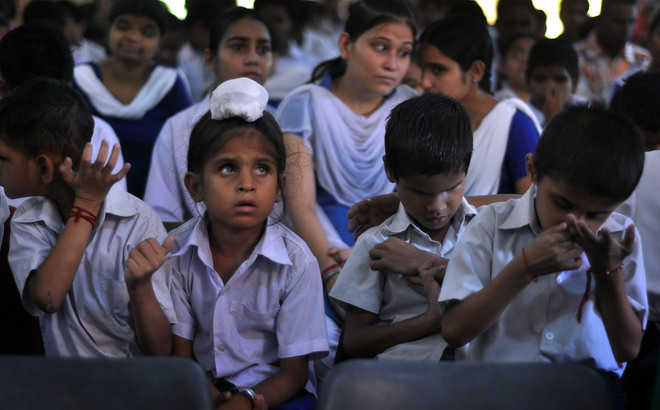 Sanjeev Singh Bariana
Tribune News Service
Chandigarh, February 26
Physically and mentally impaired students availing the services of writers in the matriculation and Class XII examinations of the Punjab School Education Board (PSEB) will not have to pay fee for the purpose this year onwards.
Earlier, all students with disabilities had to pay Rs 100 per subject. The facility had been free only for the blind. The expenses will now be borne by the PSEB, said Komal Singh, a public relations officer of the board.
The Class XII finals begin tomorrow, while the Class X examinations start on March 12.
Sources said students with disabilities in 21 categories will benefit from the decision, including those afflicted with Parkinson's disease, deafness, blindness, hearing and visual impairment, sickle cell disease, haemophilia, thalassaemia, speech and language disability, multiple sclerosis, specific learning disability, chronic neurological conditions, muscular dystrophy, cerebral palsy, autism spectrum disorder, mental illness, intellectual disability, dwarfism and locomotor disability. Acid attack victims are also on the list.
Permission for hiring a writer can now be taken from the centre superintendent concerned. The school principal can forward the student's case directly to the local centre head instead of sending it to the head office. Earlier, the permission took time as it came from the head office in Mohali.
The school head concerned is required to give the names of writers for all students in the respective institution at least a week before the examinations. The officer or the principal who fails to provide a writer each to the disabled students will face disciplinary action.
Students can mention their choice of the writers, including fellow students, but the latter should be at least one class junior to the examinee.
Former IAS officer to head PSEB
Mohali: Manohar Kant Kalohia (64), a retired IAS officer of the Rajasthan cadre, was on Monday appointed Chairman of the Punjab School Education Board (PSEB). The post was lying vacant after the Capt Amarinder Singh government had removed retired PCS officer Balbir Singh Dhol, an appointee of the previous Akali-BJP government, in May last year. Since then, School Education Secretary Krishan Kumar had been officiating as the Chairman. Kalohia, a resident of Jaipur, has served as the Commissioner (Industries), Rajasthan. He is also the chairman of the Rollball Federation of India. TNS
Top News
27 outfits attend all-party meeting | Flag 14 discussion poi...
Hindenburg sticks to 'fraud' charge | Share prices slide fur...