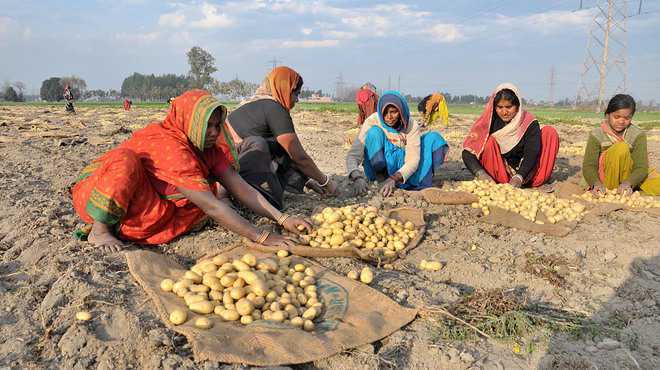 Tribune News Service
Phagwara, January 7
For potato farmers reeling under issues of glut, experts of the Board of Radiation and Isotope Technology (BRIT), Department of Atomic Energy, Navi Mumbai, have suggested that they should go in for irradiation of the produce for a longer shelf life and to improve their prospects for export.
Dr Yojana Singh, a scientist from BRIT, who was at the expo of Indian Science Congress that concluded today at Lovely Professional University, said many companies exporting spices were getting their packs irradiated using gamma radiation processing services from one of the 22 radiation processing plants across the country, which were running under an agreement with the BRIT.
She added, "Recently, we have started irradiating mangoes and litchis and these remain fresh for three months. We are already doing it for potatoes in UP and onions in Maharashtra. Farmers in the state too can go for irradiation of their produce from the nearest plant, which can be in Delhi". She said, "The company does the packaging of its products and sends these to us in cartons. We do not disturb their packaging and straightaway put the cartons on the conveyer belt."
The experts said many Indian companies were removing the stamping because of prevailing misconceptions that radiation was unsafe. "People need to know that there is radiation all around and already inside our bodies," atomic energy experts added.
Top News
Bill provides for reservation of one-third of the seats in t...
Says Canada has provided no specific information regarding H...
Reiterated that there are 'credible allegations' that should...
Rapper Shubh's 'Still Rollin India Tour' was cancelled after...
Sukhdool Singh alias Sukha Duneke, a gangster who escaped to...