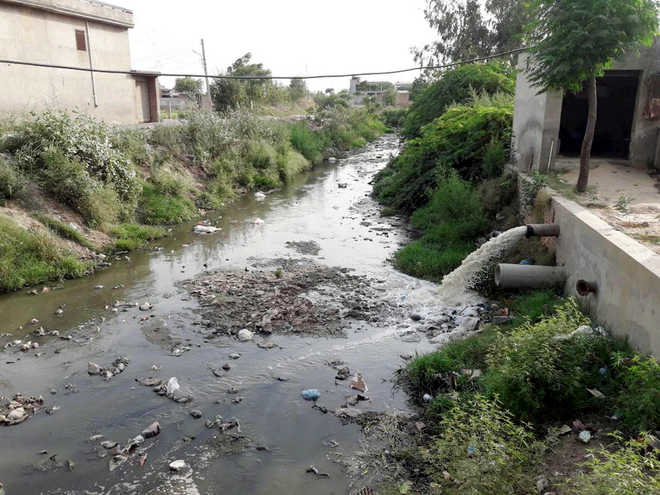 Kulwinder Sandhu
Tribune News Service
Moga, May 23
Most of the sewage water in Moga city flows into stormwater drains, polluting the natural water bodies even as a sewage treatment plant was commissioned by the state government in 2013 at a cost of Rs 27 crore.
Many households on the Sandhuana road and Bohna road direct their wastewater into open drains (natural/storm water bodies), thus causing foul smell in nearby areas.
Deepinder Singh Sandhu, Independent councillor of the Moga Municipal Corporation, has alleged that both Punjab Water Supply and Sewerage Board and the local civic body have failed to stop the pollution caused by the sewage water. "Untreated water should not be allowed to flow into the natural/storm water bodies," he added.
The MC authorities has said the total capacity of the installed sewage treatment plant is 27 million litres per day (MLD), but the outflow of the wastewater has increased by about 5 to 10 MLD, which has created the problem.
Mayor Akshit Jain said the STP was being run by the Punjab Water Supply and Sewerage Board, but the local body pays the running cost to the board.
Admitting that there were some outer areas of the city that have not been linked with the drainage system, he said the MC had written to the sewerage board many a time to interlink all left-out areas of the city, but to no avail.
Jain said the pollution caused by effluents was a big problem for the city and the state government must take appropriate steps and issue directions to the sewerage board to take necessary steps to stop this environmental hazard.
The underground water of the city is already contaminated with uranium and traces of other heavy metals. The general house of the civic body had already passed a resolution five years ago to install reverse osmosis plants (RO) in all wards of the city so that people could get clean potable water, but the state government did not provide the funds for the purpose.