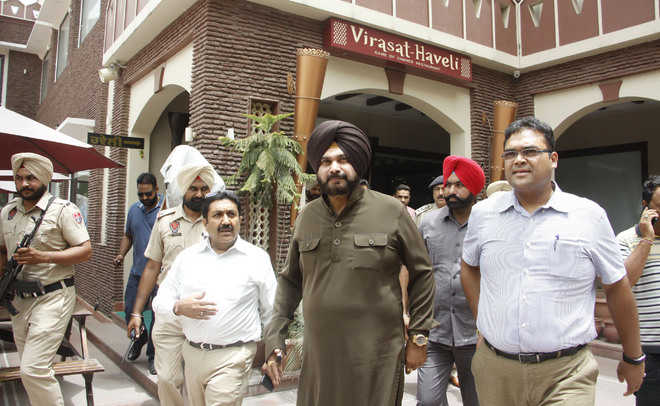 Aparna Banerji
Tribune News Service
Jalandhar, June 14
Local Bodies Minister Navjot Singh Sidhu on Thursday suspended eight officials of the Town Planning Department of the Municipal Corporation for allowing illegal construction in the district.
In surprise raids, the minister inspected at least 35 illegal buildings in the district. He suspended a Senior Town Planner, two Assistant Town Planners, two Municipal Town Planners and three Building Inspectors.
The suspended officials are Senior Town Planner Parampal Singh, Municipal Town Planners Meherban Singh, and Monika Anand, Assistant Town Planners Naresh Mehta and Balwinder Singh and Building Inspectors Pooja Mann, Neeraj Sharma and Ajit Sharma.
Ten officials who have been chargesheeted are Senior Town Planner Parampal Singh, Municipal Town Planners Monika Anand and Meharban Singh, Assistant Town Planners Naresh Mehta and Balwinder and Building Inspectors Neeraj Sharma, Pooja Mann, Rajinder Sharma, Arun Khanna and Ajit Sharma.
Sidhu said FIRs would also be lodged against the erring officials under Section 120 B of the IPC and Section 298 of the Municipal Act. He said the action was aimed at the eventual dismissal of these officials. Chargesheets were also being issued under Rule 8 of the Municipal Act against the erring persons. The department was also closely observing the assets of the officials and in case discrepancies were found, the assets would be attached.
Addressing a press conference at Rama Mandi, Sidhu said, "The number of illegal constructions which have come up in the city would not have been possible without the consent of the officials. Of the 93 illegal buildings in Jalandhar, we have visited at least 35 to 40 today, in all of which gross violations have been found. We have under radar over 300 such buildings. None of the erring colonisers in any of them will be spared."
"I won't tolerate theft in my department. The cohesion of officials with erring colonisers is causing huge revenue losses to the government. On a majority of the lands, the illegal constructions are coming up without CLUs or requisite construction certificates. Some officials feign ignorance to hide their culpability. Residents' security and fire safety is being taken for granted in majority of these illegal constructions. We will spare no one," he said.
Sidhu added, "We have also recommended FIRs against illegal colonisers. I will be coming back after a month and we will ensure that the erring persons are brought to book." He said all the buildings with illegal constructions would eventually be demolished.